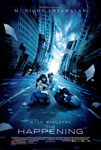 A family is on the run from an inexplicable and unstoppable event that threatens not only humankind–but the most basic human instinct of them all: survival.
Genres: Action/Adventure, ThrillerRelease Date: June 13th, 2008 (wide)
MPAA Rating: R for violent and disturbing images.
Starring: Mark Wahlberg, Zooey Deschanel, John Leguizamo, Spencer Breslin, Ashlyn Sanchez
Directed by: M. Night Shyamalan
I thought the Sixth Sense was a good movie with a great plot twist. Shyamalan's movie Signs was a true horror sci-fi classic, but I'd change the title of this movie "The Not Happening." I view this as a complete loss of 90 plus minutes of my life.
I've even come to like Mark Wahlberg, and he and the other actors did the best they could with the material they had, but there was nothing here. The scariest part of movie involved their interactions with an old lady living alone, and that was only a minor part of the story.
The main message I'd leave you with is, DO NOT see this movie. Don't even bother to rent it once it comes out on DVD. This movie gets a single star only because you can't give it a zero.