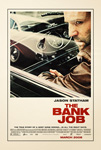 A car dealer with a dodgy past and new family, Terry has always avoided major-league scams. But when Martine, a beautiful model from his old neighborhood, offers him a lead on a foolproof bank hit on London's Baker Street, Terry recognizes the opportunity of a lifetime. Martine targets a roomful of safe deposit boxes worth millions in cash and jewelry. But Terry and his crew don't realize the boxes also contain a treasure trove of dirty secrets – secrets that will thrust them into a deadly web of corruption and illicit scandal that spans London's criminal underworld, the highest echelons of the British government, and the Royal Family itself…the true story of a heist gone wrong…in all the right ways. 
Genres: Comedy, Drama, Thriller and Crime/Gangster; Running Time: 1 hr. 50 min.; Release Date: March 7th, 2008 (wide); MPAA Rating: R for sexual content, nudity, violence and language.
Cast: Jason Statham, Saffron Burrows, Stephen Campbell Moore, Daniel Mays, James Faulkner
Directed by: Roger Donaldson
Movies that entertain and are worth the price of admission all have one thing in common,a Good Story! This is an entertaining story that is adequately written, acted and directed. For an almost 2 hour film it keeps your attention. It wasn't the best bank robbery movie I have ever seen, but if you like these kind of films, this one is worth seeing.
I am not too big a Jason Statham fan, but he is right at home in a film such as this. Donaldson moves his story along with an obvious knowledge of the many heist films of the past, using all the classic elements that worked very well back then and still work now, such as  the double cross, of which there are many, and of course the obligatory characters, all of whom have their own special skills. Saffron Burrows is fantastic as the love interest, and the rest of the cast shines as well. Though it is difficult at first to tell just what exactly is going on, the film quickly kicks into high gear the moment the heist goes underway, and from that point on the film is essentially a very well made and exciting exercise in the classic B movie bank robbery scenario.