For a number of years now, I've subscribed to Audible.com. This allows me to download one book and have one subscription program per month. These are a great way to pass time while on the road, especially on long trips.
The most recent book I'm "listening to" is David Sedaris' When You Are Engulfed in Flames. It's a collection of essays on the banalities of life. I was listening to one of his essays this past week during a drive to St. Pete, and it stirred up some wonderful memories about a place I lived during a difficult time.
In his essay, Sedaris talks about an experience he had living in a rooming house in Chapel Hill, NC when he was between attending school. He talked about the "character" of the place resulting from its age, and especially about the eccentric owner/landlady with whom he shared a fun relationship.
I seem to have a knack for finding apartments that have at least something "cool" going for them. Not too long after moving to Greensboro, I wound up sharing a really cute house with two other very interesting guys in a great neighborhood next to a park. The first time I lived in Tampa, I lived in a great old one-bedroom four-plex three houses up from Bayshore Blvd. right at the bay, and three blocks from a great little shopping/entertainment area. Even when I moved to Dayton I had a decent apartment with an exposed brick wall in an older complex where nearly every gay person in town had lived at one time or another. I even had some fun neighbors on one side.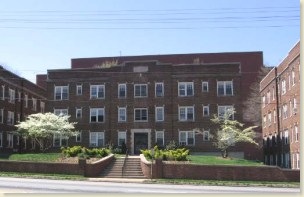 But the apartment I think I will always remember with the fondest memories was Gray Court Apartments in Winston-Salem, NC. It was comprised of three very old three-story red brick buildings with 53 studio, one and two bedroom apartments situated right on the edge of downtown at the intersection of two main streets (5th and Broad). Although old enough to still have steam heat with radiators and no central air conditioning, the place had a waiting list. Despite its age, the buildings were well kept. The apartments were fairly large with the small closets of the 1940's when the buildings were built, great hardwood floors, and 10′ ceilings.
There's the old real estate saw about "location, location, location," and Gray Court has it. Right behind the apartments was one of Winston-Salem's neighborhoods of older restored homes. This was a very eclectic part of town, and I thoroughly enjoyed evening walks down through the neighborhood. looking out the front, one was looking into the southern edge of downtown, and it was about one-third of a block to the large Methodist Church I attended (modeled on Duke Chapel).