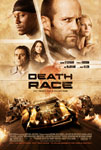 Terminal Island, New York: 2020. Overcrowding in the U.S. penal system has reached a breaking point. Prisons have been turned over to a monolithic Weyland Corporation, which sees jails full of thugs as an opportunity for televised sport. Adrenalized inmates, a global audience hungry for violence and a spectacular, enclosed arena come together to form the 'Death Race', the world's biggest, most brutal sporting event. Five-time NASCAR champion Jensen Ames is a man who has become an expert at survival. After eight years of hard time, he has only six weeks before reuniting with his family. But when Weyland demands a driver to headline the big game, Ames is forced to submit. Donning the costume of mythical rider Frankenstein, the racer becomes an instant crowd favorite, an unequaled sporting superstar. His face hidden by a metallic black mask, one convict will be put through a brutal three day challenge, with the trophy being the ultimate prize: freedom. The only catch is that he must survive a gauntlet of the most vicious criminals in this post-industrial wasteland to claim it. Driving a monster car outfitted with machine guns, flamethrowers and grenade launchers, Ames must now kill or be killed to win the most treacherous spectator sport on Earth: 'Death Race'.
Genres: Action/Adventure, Science Fiction/Fantasy, Thriller, Remake and Sports
Running Time: 1 hr. 29 min.; Release Date: August 22nd, 2008 (wide); MPAA Rating: R for strong violence and language.
Cast: Jason Statham, Joan Allen, Ian McShane, Tyrese Gibson, Natalie Martinez
Directed by: Paul W.S. Anderson
Despite the rating, we took Lay's nephews to see this knowing they would like the action and the modified cars. It was nothing worse than they see in some of their video games. It turned out better than I expected. Sometimes a movie is made to be simply entertaining…not critically acclaimed. But even this movie had its share of solid acting perfomances, and a simple storyline, which is key to any action film. It's not bogged down with stupid one-liners…its a little cleaver..but doesn't take itself seriously. The action sequences were well done, and there was plenty of violence and bloodshed… What more do you want from a rated "R" flick? If you want substance, go to something else, but just for an action movie, Death Race is not terrible.