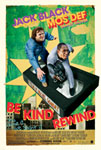 Jerry, a junkyard worker, attempts to sabotage a power plant that he believes is melting his brain. But when his plan goes awry, the magnetic field that he creates accidentally erases all of the videotapes in a local video store where his best friend Mike works. Fearing that the mishap will cost Mike his job, the two friends team up to keep the store's only loyal customer – a little old lady with a tenuous grasp on reality – from realizing what has happened by recreating and re-filming every movie that she decides to rent. From "Back to the Future," to "Robocop," to "Rush Hour," to "The Lion King," Jerry and Mike become the biggest stars in their neighborhood by starring in the biggest movies ever made.
Genres: Comedy; Running Time: 1 hr. 41 min.; Release Date: February 22nd, 2008 (wide); MPAA Rating: PG-13 for some sexual references.
Starring: Jack Black, Dante 'Mos Def' Smith, Danny Glover, Mia Farrow, Melonie Diaz
Directed by: Michel Gondry
Lay and I decided to stay in last night and throw a couple of steaks on the grill. We rented "Be Kind Rewind" based on a recommendation by a friend from work.
Mos Def and Jack Black make a good combination. I would like to see them work together again in a bigger movie. The story was original and had potential for comedic greatness, but it fell a little short. The movie started fairly slow, and the setup was a bit long. It was directed with a quirky type of comedic style that was decent, but didn't seem to fit the ridiculous premise of this movie.
Overall, the movie was entertaining, definitely worth renting but probably not spending full admission price for.