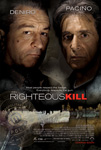 A pair of veteran New York City police detectives are on the trail of a vigilante serial killer. After 30 years as partners in the pressure cooker environment of the NYPD, highly decorated Detectives David Fisk and Thomas Cowan should be ready for retirement, but aren't. Before they can hang up their badges, they are called in to investigate the murder of a notorious pimp, which appears to have ties to a case they solved years before. Like the original murder, the victim is a suspected criminal whose body is found accompanied by a four line poem justifying the killing. When additional crimes take place, it becomes clear the detectives are looking for a serial killer, one who targets criminals that have fallen through the cracks of the judicial system. His mission is to do what the cops can't do on their own–take the culprits off the streets for good.
Genres: Action/Adventure, Drama and Thriller
Running Time: 1 hr. 41 min.; Release Date: September 12th, 2008 (wide); MPAA Rating: R for violence, pervasive language, some sexuality and brief drug use.
Starring: Robert De Niro, Al Pacino, 50 Cent, Donnie Wahlberg, Carla Gugino
Directed by: Jon Avnet
I was expecting something much less than I got, based on the reviews. What I got was a well acted realistic thriller that had me guessing until the end! The story was plausible and the the shots in NY gave a gritty if not perfect view of the underbelly of the city and its police force.
Pacino and De Niro are really great in this movie. It does start a little, but once you get into the story, and think you have it all figured out, you suddenly get thrown a curve ball. Lot's of tight facial shots can be tiring in some movies, but in this movie, they are used effectively to draw you into the movie, and give you a sense of intimate involvement in the story. It's not the best cop movie I've seen, but it is definitely worth watching.