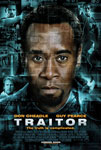 When straight arrow FBI agent Roy Clayton heads up the investigation into a dangerous international conspiracy, all clues seem to lead back to former U.S. Special Operations officer, Samir Horn. A mysterious figure with a web of connections to terrorist organizations, Horn has a knack for emerging on the scene just as a major operation goes down. The inter-agency task force looking into the case meets with Carter, a veteran CIA contractor who seemingly has his own agenda and Max Archer, a fellow FBI agent. The task force links Horn to a prison break in Yemen, a bombing in Nice and a raid in London, but a tangle of contradictory evidence emerges, forcing Clayton to question whether his quarry is a disaffected former military operative — or something far more complicated. Obsessed with discovering the truth, Clayton tracks Horn across the globe as the elusive ex-soldier burrows deeper and deeper into a world of shadows and intrigue.
Genres: Drama, Thriller and Politics/Religion
Running Time: 1 hr. 53 min.; Release Date: August 27th, 2008 (wide); MPAA Rating: PG-13 for intense violent sequences, thematic material and brief language.
Cast: Don Cheadle, Archie Panjabi, Guy Pearce, Aly Khan, Simon Reynolds
Directed by: Jeffrey Nachmanoff
After having Lay's nephews over for Saturday night, and the rest of the family for a day of swimming and a cookout Sunday, we relaxed with dinner and a movie Sunday evening of Labor Day Weekend. We both had wanted to see Traitor. Traitor is an intellectual espionage drama that will keep your attention. The director and actors convincingly portrayed a solid storyline centering on religion, terrorism and the government. It was tastefully done and should not offend anyone. Don Cheadle gave a brilliant performance, as usual. It's one of the better movies of the year, so far.
This isn't your normal action movie. Neither is it your normal dry political thriller. The acting all around was simply amazing and draws you instantly into the story. The visuals are well presented and done with substance instead of flash. The story is where it really shines. It's not a mystery but it holds onto you with such a rich and powerful series of events. It may be a bit heavy handed at times, and it did drag a bit in a few places, but was a necessary part of the telling a believable story. It grabs you and makes you think, very nice film.