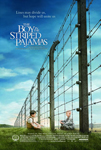 Eight year-old Bruno is the sheltered son of a Nazi officer whose promotion takes the family from their comfortable home in Berlin to a desolate area where the lonely boy finds nothing to do and no-one to play with. Crushed by boredom and compelled by curiosity, Bruno ignores his mother's repeated instructions not to explore the back garden and heads for the "farm" he has seen in the near distance. There he meets Shmuel, a boy his own age who lives a parallel, alien existence on the other side of a barbed wire fence. Bruno's encounter with the boy in the striped pajamas leads him from innocence to a dawning awareness of the adult world around them as his meetings with Shmuel develop into a friendship with devastating consequences.
Genres: Drama, Adaptation and War; Running Time: 1 hr. 33 min.; Release Date: November 7th, 2008 (limited); MPAA Rating: PG-13 for some mature thematic material involving the Holocaust.
Starring: Vera Farmiga, David Thewlis, Rupert Friend, Cara Horgan, David Hayman, Asa Butterfield, Jack Scanlon
Directed by: Mark Herman
I was moved beyond words by this movie. It was maybe one of the saddest and most moving stories I've seen. All the actors were great, but especially Asa Butterfield as Bruno, the Nazi Commandants son, and Jack Scanlon as the Jewish child Schmuel were just remarkable. The music was beautiful in its simplicity, and by the end came to sound like a hymn.
This story has so many messages that it's hard to know where to begin. First there is the story of the innocence of childhood. It is amazing to be able to see the world through children's eyes, and realize how really simple the world can be. We just have to find those things we have in common with one another, and friendship is easy. There is the moral story of karma. Those who foment hate and evil may have it come around to bite them in the ass.
This movie was a stunning morality play, and I hope it will be seen by millions. This movie, like Schindler's List, is an important story with an important message applicable to how we treat one another today, and a reminder of the importance of never ever standing by for this type of evil. At the end of the movie everyone in the theater sat quietly rather than making the usual dash to the exits. I don't know about anyone else, but I was stunned into a soul searching reflection. Even as we began to leave, with the beautiful piano solo playing the movie theme that had become more like a hymn, people could only whisper in respect for the experience.
It was also amazing to hear the language used to teach hate for other's, and see how it can br effective for those looking to blame their problems on someone else. It was remarkably similar to the words and tactics used by those today to dehumanize gay people.
Know that the film's resolution, though admirably restrained and unsentimental, is devastatingly sad. Parents should take this into account. This beautifully rendered film is told in a classic and old-fashioned style, in the best sense, providing poignant and powerful teachable moments.