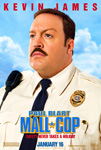 A single, suburban dad tries to make ends meet as a security officer at a New Jersey mall. It's a job he takes very seriously, though no one else does. When Santa's helpers at the mall stage a coup, shutting down the megaplex and taking hostages (Paul's daughter and sweetheart among them), Jersey's most formidable mall cop will have to become a real cop to save the day.
Genres: Action/Adventure, Comedy, Kids/Family and Crime/Gangster; Running Time: 1 hr. 31 min.; Release Date: January 16th, 2009 (wide); MPAA Rating: PG for some violence, mild crude and suggestive humor, and language.
Starring: Kevin James, Keir O'Donnell, Raini Rodriguez, Adhir Kalyan, Jayma Mays
Directed by: Steve Carr
Lay and I took his nephew to see this movie last weekend, but we both admitted to wanting to see. I've always liked Kevin James, and this movie was pretty good for the genre. While managing to leave out the gratuitous violence, sex and foul language, they still made a very funny spoof of the Die Hard movies.
It was consistently funny, and the characters were actually believable. Kevin James carries this movie. As it begins you feel for Paul Blart and your affection for him grows as the film progresses. It is easy to feel for a man whose dream is to be a New Jersey police officer, but for now is only a mall security officer. Blart is a lovable character who downs pixie sticks to keep his sugar up. The mall gets taken over by X-game rejects who ride their bikes and skateboards around the mall chasing Blart on his Segway. Blart takes it upon himself to save the mall and his love interest and does so in comedic fashion.
This isn't a movie that is going to win any awards, but it is a feel good action/comedy in which a down and out Paul Blart overcomes the circumstances to save the day.