"Glenn Beck is a logical thinker."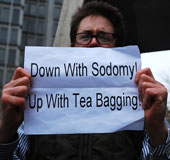 These are interviews with the 60,00 to 70,000 people who turned out for the big Tea Bagger March in Washington. Apparently, you don't have to really know anything about what you're protesting. It's all just bad because it is Obama, and some industry or media flak like Glenn Beck told you to be mad and scared.
The Tea Bagger protests were against, well, a lot of things, including health insurance reform, the IRS, abortion, global warming, and our "socialist/communist/fascist/Nazi/Muslim " president, Barack Obama. Some of them called for a return to McCarthyism, while others called for Glenn Beck to run for office–indeed, it seemed the only thing that everyone agreed on was Fox News.
I find it strange how these are the Americans who were in support of spending close to $700 Billion on the War in Iraq killing their civilians but they are? against providing equal government regulated universal health-care to every American citizen that is similar to those who are in the military get
And even more surreal is this that these same anti-nazi/socialism/facism villagers aren't willing to give anyone else a voice if it dissents from their own. So let's see, what is one of the characteristics of socialism…oh yeah, that would be the idea of forceably quelling dissent.