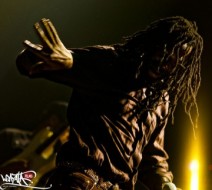 Buju Banton is a Jamacian Reggae star who riled up the gay community with songs like "Boom Bye Bye" which calls for gay people to be shot in the head with automatic weapons, have acid poured on them, and be burned "like an old tire wheel." He currently has an American tour being roundly opposed by the gay community, and a number of events have been cancelled. Unfortunately, the owner of a concert venue in downtown St. Petersburg, Janus Landing, feels no responsibility to help build an inclusive community.
A show on October 30th in Tampa was canceled. Unfortunately, it appears Mr. John "Jack" Bodziak, owner of the St. Pete venue, is fine with inviting a person who believes it is not only OK to bash other people, but seeks to incite others to the same behavior. Mr. Bodziak can be reached at jack@gmail.com or (727) 896-2276. I sent Mr. Bodziak the following email:
I have read that a planned concert by Buju Banton at Janus Landing is still scheduled. Is that true?
I generally support all forms of artistic expression, but Banton crosses over a line. Buju Banton has a long history of performing songs advocating violence against gay people, including one song, which advocates shooting gay people in the head with automatic weapons, pouring acid on them, and burning them "like an old tire wheel."
But the issue goes far beyond just lyrics in some songs. Amnesty International and Human Rights Watch confirmed that Buju Banton was among six men involved in a gay bashing in June 2004 in Constant Spring, Jamaica. UK, so Banton has a history of not only inciting others to harm fellow  human beings, he himself has participated.
Despite having met with a group of gay leaders and activists this week, Banton made the following statement, "This is a fight, and as I said in one of my songs 'there is no end to the war between me and faggot' and it's clear." This is NOT a person who should be invited to our community, and frankly, you should be ashamed for providing a venue for a person like this.
I frequently go to downtown St. Petersburg, eat at a number of restaurants, and watch movies at Baywalk, but no more. I will no longer feel safe after Buju has had the opportunity to incite people to murder and burn gay people, and will be notifying those businesses I frequent to explain why they will no longer enjoy my patronage.
I am truly sorry that you believe some amount of money is worth sponsoring the bringing of a person like this into our community.
I do plan to follow through. Lay and I are regulars at least at one nicer restaurant downtown.