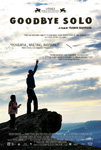 On the lonely roads of Winston-Salem, North Carolina, two men forge an improbable friendship that will change both of their lives forever. Solo is a Senegalese cab driver working to provide a better life for his young family. William is a tough Southern good ol' boy with a lifetime of regrets. One man's American dream is just beginning, while the other's is quickly winding down. But despite their differences, both men soon realize they need each other more than either is willing to admit. Through this unlikely but unforgettable friendship, "Goodbye Solo" explores the passing of a generation as well as the rapidly changing face of America.
Genres: Drama; Running Time: 1 hr. 31 min.; Release Date: March 27th, 2009 (limited); MPAA Rating: R for language.
Starring: Souleymane Sy Savane, Diana Franco Galindo, Red West
Directed by: Ramin Bahrani
We picked this at Blockbuster. I never saw a trailer for it, so it was taking a risk. I liked the movie a lot, Lay not so much.
Solo (Souleymane Sy Savane) is a Senegalese cabbie with a pretty good outlook on life. He seems to be always smiling. He meets William (Red West), who wants a ride 10 days from now from Winston-Salem to the top of a mountain to Blowing Rock. He doesn't plan to return.
Solo takes it upon himself to save this man, and William is just as determined to ignore him and proceed with his mission.  This movie made me wish there were an Oscar for "Best Character." My friends and I were very impressed with Solo–who was a seamless blend of great writing and amazing acting. This man can act with his eyes.
All the actors did a great job playing their parts.  Red West played his part with quiet subtlety. You are captivated watching the dance between the two over the 10 days.
There are no cute lines. The film is real. It is about how real humans interact and it takes place in a real place. I recognized a few of the scenes in Winston-Salem, and the director did a great job of using the old tobacco plants as a perfect setting to frame the story.
At the time all this is playing out, Solo is dealing with troubles on the home front, and working to get accepted into flight attendant school.
You'll have to interpret the ending for yourself.