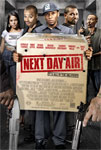 When two bumbling criminals accidentally receive a package of grade-A cocaine, they think they've hit the jackpot. But when they try to cash in on their luck, it triggers a series of events that forever changes the lives of ten people. Smalltime hoods Brody and Guch have seen better days. But when a wacked-out courier accidentally brings them a box containing 10 kilos of high-quality cocaine meant for their next-door neighbors, it sets in motion a chain of events that could cost all of them their lives. Brody and Guch immediately arrange to sell the coke to Brody's drug dealer cousin and his tightlipped bodyguard. But when the intended recipients of the package, wannabe gangster Jesus and his feisty girlfriend, realize the box hasn't arrived, they set out on a desperate search to find it before ruthless drug kingpin Bodega Diablo notices it's missing. But they're too late. Furious over the loss of his shipment, mob boss Bodega will stop at nothing to get the drugs back. With Brody and Guch's drug deal about to go down, all parties are on a collision course that's almost certain to end in heavy gunfire. And whoever's still standing when the smoke clears could walk away with nearly a million dollars in cash and drugs.
Genres: Action/Adventure and Comedy; Running Time: 1 hr. 30 min.; Release Date: May 8th, 2009 (wide); MPAA Rating: R for pervasive language, drug content, some violence and brief sexuality.
Starring: Mike Epps, Wood Harris, Donald Faison, Omari Hardwick, Emilio Rivera
Directed by: Benny Boom
Produced by: Bryan Turner, Bruce McNall, Steven Markoff
We watched this on DVD Sunday before last. (Yes, I know I'm running behind on some of these.) I found this movie to have a few ha ha moments, but it was low key and a little slow.  There's some fun watching how we think delivery services handle our packages. But it was, otherwise, a bit predictable.
The plot had no real dynamic and all the plot twists were not surprising at all, if you can even call them twists. add to that a bunch of stereotype characters with no depth and personality and you can imagine how captivating the movie was.