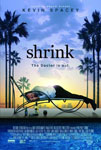 What happens when the people we count on to hold us together are barely holding it together themselves? Henry Carter is a psychiatrist with an A-list clientele, including a once-famous actress, an insecure young writer, and a comically obsessive-compulsive super agent. Henry is not in a good place, however. He has been asked to take his first pro bono case, a troubled teenage girl from a neighborhood far from the Hollywood hills. Considering his present state of mind, is he ready for the real-life troubles of a young woman who loves the world of movies he has become so jaded by?
Genres: Drama; Running Time: 1 hr. 44 min.; Release Date: July 24th, 2009 (limited); MPAA Rating: R for drug content throughout and pervasive language including some sexual references.
Starring: Kevin Spacey, Mark Webber, Jack Huston, Laura Ramsey, Pell James
Directed by: Jonas Pate
Lay and me saw the preview for this on another DVD, and thought it might be worth watching, so we watched it last weekend.
This is a well worn plot with a group of unconnected people's paths crossing through a common denominator, the "Shrink to The Stars," played by Kevin Spacey. And Spacey's character is just as screwed up as many of his patients.
The movie is set in L.A. and does a great job in reinforcing the picture that the rest of the world has about many people in L.A. (especially those who are Hollywood connected), who seem always to be wallowing in self-pity, and who are dependent on drugs and shrinks (or should that be shrinks who are themselves dependent on something or somebody else?).
Spacey does as good a job as possible, but the screen play isn't that strong. The director struggles throughout to make something of this script and screen play. Probably because he is tasked with showing people having problems who really don't have any bigger problems than millions of others around the world in or outside L.A. The feel-good ending is nothing more than a convenient way to finish. No.
Shrink fails to convince the viewer that anyone in the story has such a serious problem that can't be solved by sipping a nice cup of tea and chatting with a sensible friend.
Watch it but don't expect too much.