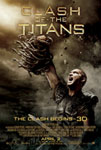 The ultimate struggle for power pits men against kings and kings against gods. But the war between the gods themselves could destroy the world. Born of a god but raised as a man, Perseus is helpless to save his family from Hades, vengeful god of the underworld. With nothing left to lose, Perseus volunteers to lead a dangerous mission to defeat Hades before he can seize power from Zeus and unleash hell on earth. Leading a daring band of warriors, Perseus sets off on a perilous journey deep into forbidden worlds. Battling unholy demons and fearsome beasts, he will only survive if he can accept his power as a god, defy his fate and create his own destiny.
Genres:     Action/Adventure and Remake; Running Time: 1 hr. 50 min.; Release Date: April 2nd, 2010 (wide); MPAA Rating: PG-13 for fantasy action violence, some frightening images and brief sensuality.
Actors: Sam Worthington, Liam Neeson, Ralph Fiennes, Jason Flemyng, Gemma Arterton, Alexa Davalos, Mads Mikkelsen, Izabella Miko, Liam Cunningham, Hans Matheson, Ashraf Barhom, Ian Whyte
Directed by: Louis Leterrier
We watched this at the theater a couple of weeks go. Let me direct. Skip this movie and watch the 1981 Harry Hausen version of the movie. It's much better.
Remakes tend to be very good, or be epic failures, and this was an epic failure. This film tears to shreds the "Perseus vs. Medusa" myth and replaces it with mindless power chord progressions, endless action sequences, and a trivialized view of the Greek gods. If you believe this film, the Gods simply stand around on pedastals watching the world below.
Sam Worthington has proved himself to be a competent actor recently, but his performance is just nauseating with his embarrassed delivery of wooden dialogue. The script is awful, and the overblown spectacle of the entire thing is so self-indulgent that I was bored within the first 15 minutes. They spent no time setting up the story. The actions sequences were not that great, and there is absolutely no reason to watch this movie in 3D.