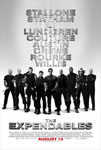 A group of mercenaries is hired to infiltrate a South American country and overthrow its ruthless dictator. Once the mission begins, the men realize things aren't quite as they appear, finding themselves caught in a dangerous web of deceit and betrayal. With their mission thwarted and an innocent life in danger, the men struggle with an even tougher challenge — one that threatens to destroy this band of brothers. Barney Ross is a man with nothing to lose. Fearless and void of emotion, he is the leader, the sage and the strategist of this tight-knit band of men who live on the fringe. His only attachment is to his pickup truck, his seaplane and his team of loyal modern-day warriors. His is a true cynic who describes what he does as "removing those hard to get at stains." The team behind him is made up of Lee Christmas, former SAS and a savant with anything that has a blade; Yin Yang, a master at close-quarter combat; Hale Caesar, who has known Barney for ten years and is a long-barrel weapons specialist; Toll Road, a skilled demolitions expert and considered the intellect of the group; and Gunnar Jensen, a combat veteran and an expert in precision sniping who struggles with his own demons. When the mysterious Church offers Barney a job no one else would take, Barney and his team embark on what appears to be a routine mission: overthrow General Gaza, the murderous dictator of the small island country of Vilena and end the years of death and destruction inflicted on its people. On a reconnaissance mission to Vilena, Barney and Christmas meet their contact Sandra, a local freedom-fighter with a dark secret. They also come to learn who their true enemy is: rogue ex-CIA operative James Monroe and his henchman Paine. When things go terribly wrong, Barney and Christmas are forced to leave Sandra behind, essentially giving her a death sentence. Haunted by this failure, Barney convinces the team to return to Vilena to rescue the hostage and finish the job he started. And to perhaps save a soul: his own.
Genres: Action/Adventure and Crime/Gangster; Running Time: 1 hr. 43 min.; Release Date: August 13th, 2010 (wide); MPAA Rating: R for strong action and bloody violence throughout, and for some language.
Starring: Sylvester Stallone, Jason Statham, Jet Li, Dolph Lundgren, Eric Roberts
Directed by: Sylvester Stallone
I tried to take the past week off. One of the things I like to do when I take time off is go see a movie in the afternoon. Somehow it's a great feeling of playing hooky. It definitely makes me feel like I'm off. I elected to go see The Expendables, as Lay wasn't interested. That would make him the smarter of the two of us.
It is a typical action film. If you're expecting any sort of Oscar Award performances or screenplay, you will be disappointed. If you want to see typical and predictable action, this film offers about as much as any.
Barney Ross (Stallone) leads the his mercenary group 'The Expendables' across the globe, taking care of hostage situations, government reorganizations and all manner of dubious military undertakings. His right hand man, Lee Christmas (Jason Statham), helps run the crew and has an ongoing debate with Barney regarding Lee's penchant for knives vs. Barney's love of guns. To round out the crew there is the martial arts specialist who is constantly (and inexplicably) asking for more money, Ying Yang (Jet Li), Toll Road (Randy Couture), the automatic shotgun toting Hale Caesar (Terry Crews), the possible junkie giant, Gunner Jensen (Dolph Lundgren) and the retired patriarch,Tool (Mickey Rourke). They are going up against General Garza (David Zayas) who is backed by the mysterious James Monroe (Eric Roberts) and his hulking bodyguard, Paine (THE Stone Cold Steve Austin). Usually I wouldn't go through the entire cast, but so much of the little enjoyment in the film is realizing 'HEY, I know that actor from before, in my childhood!'
The film is nothing if not violent, with bodies exploding, cars riddled with bullets and many, many throats getting knifed. Unfortunately, for a film that is so manically driven, none of the action seems fresh. The martial arts feel redundant, the Mexican stand-offs predictable in their lunacy, the explosions so commonplace they become yawn inducing. Even the 'casual banter in a high tension situation because they are so professional' gimmick wears painfully thin.
So, it's probably best to wait until you can get it at a Redbox, and don't have any high expectations, and it could be fun to watch.