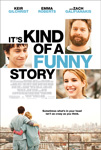 What's a 16-year-old boy doing playing music and table tennis with adult psychiatric patients – on a school day? It's kind of a funny story… It's @5:00 AM on a Sunday in Brooklyn. Craig Gilner is bicycling up to the entrance of a mental health clinic; this bright 16-year-old is stressed out from the demands of being a teenager. Before his parents and younger sister are even awake, Craig checks himself into Argenon Hospital and is admitted by a psychiatrist. But the youth ward is temporarily closed – so he finds himself stuck in the adult ward. One of the patients, Bobby, soon becomes both Craig's mentor and protege. Craig is also quickly drawn to another 16-year-old displaced to the adult ward, the sensitive Noelle, who just might make him forget his longtime unrequited crush Nia. With a minimum five days' stay imposed on him by the adult ward's staff psychiatrist Dr. Eden Minerva, Craig is sustained by friendships on both the inside and the outside as he learns more about life, love, and the pressures of growing up.
Genres: Comedy, Drama and Adaptation; Release Date: October 8th, 2010 (limited); MPAA Rating: PG-13 for mature thematic issues, sexual content, drug material and language.
Starring: Keir Gilchrist, Emma Roberts, Viola Davis, Lauren Graham, Jim Gaffigan
Directed by: Ryan Fleck, Anna Boden
We went to see this a couple of weeks ago at the movie theater. "It's Kind of a Funny Story" is an aptly titled film. It's just a story, and it's kind of funny. It's more drama than comedy, and although it was slow, they really did drag me into the story. It stars Keir Gilchrist as Craig, a teenager who thinks about killing himself and seeks help. He finds help at a psychiatric ward.
Is Zach Galifianakis a doctor or a patient? Like Robin Williams in the beginning of "Patch Adams", he blurs the line well. Here he delivers the same off-beat humour that we have come to expect from him. I was also quite impressed with Emma Roberts who plays a love interest for our teenage hero. They were all well written characters, and I found it very appropriate that they kept Roberts' reasons for being in the psych ward concealed.
Lay did not like the movie, but I'll never have it at the top of my list, it was  a decent and worth the time to watch.