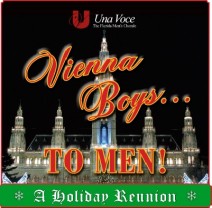 Sunday afternoon we attended the annual holiday concert for Una Voce The Florida Men's Chorale. This was their 10th annual holiday concert, and Lay and me have been to each of them. The theater was very near, if not, sold out, and I believe straight couples might have outweighed gay couples.
It is always a highlight of my holiday season, and this year was no different. The first act is always lighter music tied together with a skit. This year the theme was a reunion concert of Vienna Boy's Choir alumni. It was cute, but maybe just a tad overdone in some places. However, the musical selections were excellent, and challenging. Particular favorites were "Various Themes on 'Fa-La-La-La'" arranged by Chuck Bridwell, and a melody that combined familiar Christmas themes with the styles of popular artists, including Lady Gaga, "Christmas Soup" Arranged by Richard Gregory, with additional arrangement by Jim Beaty. This was performed by an ensemble group known as the UV Rays. (I'm sure the pun is fully intended.)
Act two is always the more serious Christmas and holiday numbers, and every one of these pieces was beautiful, and extremely well performed. It opened with "Processional Alleluia" by Victor C. Johnson, and the Chorale was accompanied by a brass quintet. This was a beautiful piece. For me, the highlight of the concert was Franz Biebl's "Ave Maria." This was performed beautifully in a call and response style with an ensemble group singing from the back of the Hillsborough Community College Performing Arts Theater. That could easily become my favorite Christmas song.
I would encourage those of you in the Tampa Bay area to check out the groups website, and attend their next concert in the Spring. They always do a great job, and are getting better with each concert. The one concern I have is that they have gone through a lot of conductors over the past couple of years, with a new conductor for each concert. They would do well to hang onto the current Artistic Director, Dwight Thomas. He did an excellent job of pulling the very best from the group, and they seemed to be thoroughly enjoying themselves, and that should be what a group like this is all about. And it comes through in the performance when that is the case.
[youtube:http://www.youtube.com/watch?v=3pr3Pu2akYg]
During the intermission, the brass quintet performed, and I recorded a brief sample for your listening enjoyment. You just can't go wrong with brass and Christmas Carols.