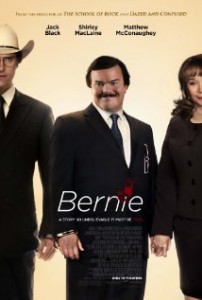 In the tiny, rural town of Carthage, TX, assistant funeral director Bernie Tiede was one of the town's most beloved residents. He taught Sunday school, sang in the church choir and was always willing to lend a helping hand. Everyone loved and appreciated Bernie, so it came as no surprise when he befriended Marjorie Nugent, an affluent widow who was as well-known for her sour attitude as her fortune. Bernie frequently traveled with Marjorie and even managed her banking affairs. Marjorie quickly became fully dependant on Bernie and his generosity and Bernie struggled to meet her increasing demands. Bernie continued to handle her affairs, and the townspeople went months without seeing Marjorie. The people of Carthage were shocked when it was reported that Marjorie Nugent had been dead for some time, and Bernie Tiede was being charged with the murder.
Genres:  Comedy, Crime, True Story
Starring:  Jack Black, Shirley MacLaine, Matthew McConaughey, Brady Coleman, Richard Robichaux, Rick Dial
Director:  Richard Linklater
Me and Lay saw this movie a while back. I liked it a lot. He thought it was OK.
I grew up in a small southern town, and grew up in the funeral business (In fact, I was a funeral director myself for a while), so this was a must see movie. It feels like I knew these locals and have heard their sayings all my life. Story is told uniquely with humor, often subtly. Jack Black stole the show. He had the part down perfectly. I've met several of those type of funeral directors. Matthew McConaughey is Texas all the way. Bernie has received excellent reviews from the critics, and I think it has that special edge to it.
The story never dragged, and Matthew McConaughey was exactly like every DA in a small town and that wasn't a stretch for him because he grew up in a not so small Texas town. Shirley McLain was also great. The real stars of this movie were the towns people. Go see this movie.