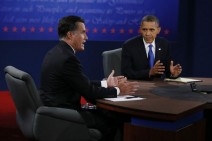 So who won last night's debate? The polls seem to give it to Obama by a pretty good margin. I'm already reading some Facebook posts about "binders full of horses and bayonets." But, let's see what the few of us that read the posting here at Deep. think about it. Cast your vote in our poll and let us know who think won last night.
Who won the October 22 Debate
I watched Drag Race All Stars (25%, 1 Votes)
Romney (0%, 0 Votes)
Obama (75%, 3 Votes)
Total Voters: 4

Loading ...