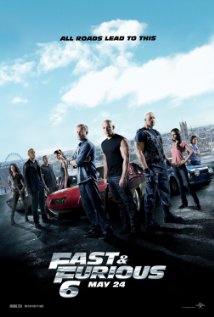 Since Dom (Diesel) and Brian's (Walker) Rio heist toppled a kingpin's empire and left their crew with $100 million, our heroes have scattered across the globe. But their inability to return home and living forever on the lam have left their lives incomplete. Meanwhile, Hobbs (Johnson) has been tracking an organization of lethally skilled mercenary drivers across 12 countries, whose mastermind (Evans) is aided by a ruthless second-in-command revealed to be the love Dom thought was dead, Letty (Rodriguez). The only way to stop the criminal outfit is to outmatch them at street level, so Hobbs asks Dom to assemble his elite team in London. Payment? Full pardons for all of them so they can return home and make their families whole again.
In Theaters:   May 24, 2013;  MPAA Rating: PG-13 (for intense sequences of violence and action and mayhem throughout, some sexuality and language); Genres: Action/Adventure, Sequel; Run Time: 2 hours 10 minutes; Distributors: Universal Pictures
Director: Justin Lin
Writers: Chris Morgan (screenplay), Gary Scott Thompson (characters)
Stars: Vin Diesel, Paul Walker, Dwayne Johnson
Oh boy. This is not a movie I would have gone to see, but we had the nephews over spending the night, and it's what they wanted to see, so off we went.
I can't believe the reviews it got, and not just from views, but from critics as well. Many claiming it's the best movie of series. I was no fan of the others, so that would be a low bar for me, but this movie just didn't make much sense from start to finish. The acting was bad and the dialogue stilted. I realize it is just an action movie designed for fun, but Star Wars was more believable. There were unbelievable scenes throughout such as: A thin, metal cable that can immediately stop a semi going at 70 MPH, and doesn't tear out of the wall/cut the semi in half; A tank that drives at 70 MPH on a highway; Said tank, that after crushing dozens of civilian cars, for some reason doesn't crush the car of one of the protagonists; A character that can jump across bridges, catch another character, land on a car, and be fine; People who get hit by cars multiple times and get up.
And then there was the big finale with the cargo jet. This scene was around 15 minutes long and I would like to point out that the take-off speed of a loaded cargo jet like that is around 150-200 mph. The plane landed, dropped its ramp for cars to drive in, and then proceeded down the runway with fights, cars driving off and back on. The runway must be 50 miles long because they were on there for literally 15 minutes traveling at an average speed of 150mph+.
The boys loved it, and it seems so do many who love the franchise. As for me…not so much.