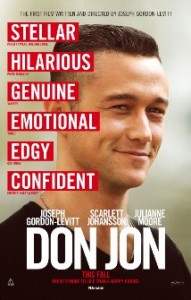 A New Jersey guy dedicated to his family, friends, and church, develops unrealistic expectations from watching porn and works to find happiness and intimacy with his potential true love. Jon Martello objectifies everything in his life: his apartment, his car, his family, his church, and, of course, women. His buddies even call him Don Jon because of his ability to pull "10s" every weekend without fail. Yet even the finest flings don't compare to the transcendent bliss he achieves alone in front of the computer watching pornography. Dissatisfied, he embarks on a journey to find a more gratifying sex life, but ends up learning larger lessons of life and love through relationships with two very different women.
In Theaters: September 27, 2013; MPAA Rating: R (for strong graphic sexual material and dialogue throughout, nudity, language and some drug use.) Genres: Comedy
Director: Joseph Gordon-Levitt
Writer: Joseph Gordon-Levitt
Cast: Joseph Gordon-Levitt, Scarlett Johansson, Julianne Moore, Tony Danza, Glenne Headly, Brie Larson, Rob Brown, Jeremy Luke, Paul Ben-Victor, Italia Ricci, Lindsey Broad, Amanda Perez
Me and Lay watched this movie in Brandon Friday night. We both enjoyed it, and got a lot of laughs. I'm OK with some romantic comedies, but generally they can be formulaic and unrealistic. I thought Don Jon went against that grain, and provided a more challenging story line. He takes a topic not usually handled in a serious way, and presents it realistically, but with great humor. Indeed, the film is very non-judgmental in its handling the topic of how we all get self-absorbed, and misguided by expecting a Hollywood experience in life.
My only criticisms are with a bit over-acting by Tony Danza, and a bit by Gordon-Levitt. Also, I thought the "Italian-family" stereotype was just a bit over done, but these were minor shortcomings. I don't want to overblow them, they were just my primary criticisms. The ending was a little abrupt, but again, I think this was a push-back against the Hollywood formula. Life doesn't always end all neat and tidy.
Be advised that there are in fact short clips of porn, but nothing X-rated. You will not see any bare genitals. There are some boobs but that's about it. The discussions about sex, though, are plain-spoken and raw, so be ready for that. Overall the R-rated material was tastefully done and not offensive if you ask me, however, because of the subject, and some of the scenes, this is going to film you love or hate.