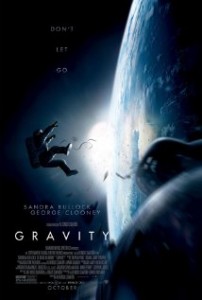 Dr. Ryan Stone (Sandra Bullock) is a brilliant medical engineer on her first shuttle mission, with veteran astronaut Matt Kowalsky (George Clooney) in command of his last flight before retiring. But on a seemingly routine spacewalk, disaster strikes. The shuttle is destroyed, leaving Stone and Kowalsky completely alone – tethered to nothing but each other and spiraling out into the blackness.
In Theaters: October 4, 2013; MPAA Rating: PG-13 (for intense perilous sequences, some disturbing images and brief strong language.); Genres: Sci-Fi/Fantasy, Thriller
Director: Alfonso Cuarón
Writers: Alfonso Cuarón, Jonás Cuarón
Stars: Sandra Bullock, George Clooney, Ed Harris, Orto Ignatiussen, Paul Sharma, Amy Warren
Let me start by saying we did not see this in 3D, so I include that disclaimer. I am certain it had an impact on my feelings about this movie, as one can clearly see there are aspects of the cinematography that were designed to be enhanced by the 3D and IMAX capabilities. The effects and cinematography are outstanding, but I'm always a sucker for space visuals. On the whole though, Gravity lacked gravitas…to be more blunt, it sucked.
Beyond the stunning views the movie just fails. The script is very weak. Apparently the Russians bomb their own satellite and the debris is flying around at bullet speed, smashing everything in its way (because no one in any space program would think that might be a problem). Now upon hearing an emergency evacuation request, Kowalski (who has wasted thrusters on some new jet pack spouting inane dialogs) orders Ryan (Bullock) to disengage from whatever she is repairing. Apparently you can be an astronaut with only six months training, but that's not enough to learn the importance of following orders. Yet, she manages to flit from one space wreck to another and yet another. She consults operation manuals in Russian and, later, Chinese, yet she is heard muttering "eeny meeny miney mo" while haphazardly pushing control buttons like some clueless chimpanzee.
We come to know that Ryan has some head issues surrounding the death of her daughter as the writer felt a dire need to give Ryan some sort of existential problem in her head to make her character feel more human. Bullock's character, Dr. Ryan Stone, is so unprepared and emotionally disabled by adversity that it is impossible to believe that she would have been selected as a mission specialist. And despite the fact that these astronaut teams train together for months if not years, apparently Kowalski and Ryan didn't know anything about each other. It's as if they first met on launch day.
Then the manufactured sense of suspense. Every time Ryan gets anywhere near the Air Lock (she does it three times), the debris from the Russian satellite presents itself on cue every single time. Then a fire in a space station, then running out of Oxygen, then something then something. It's fine that they used some standard tricks but it all seems so manufactured and mechanical by the numbers.
The the dialogs when they come are nothing to write home about. Ryan has a hallucinatory moment when she talks to herself following some Mandarin Chatter on the radio which is cringe worthy. I wont even mention the in-your-face allegory about rebirth which is there for to make the movie seem deeper than it is. Cuaron makes a supremely lame attempt at cinematic iconography depicting Bullock floating in a fetal position, a la Kubrick's Space Odessey. And after having had such a bad day and having plunged to Earth in a flaming meteor-like reentry, Stone emerges, unscathed and barefoot mind you, from the ocean onto an idyllic, uninhibited beach like some primal human emerging from the sea.
I know this thing got press galore. I see all these on-line reviews which just rave, but I just didn't get it, and neither did Lay. He wanted to leave before it was over, and I wouldn't have objected. I know I'll be called a heretic for not going along with a very large herd, but it was just not that good. Saturday we saw the best movie of the year, and Sunday we saw the worst.