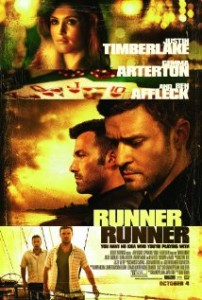 Princeton grad student Richie, believing he's been swindled, travels to Costa Rica to confront online gambling tycoon Ivan Block. Richie is seduced by Block's promise of immense wealth, until he learns the disturbing truth about his benefactor. When the FBI tries to coerce Richie to help bring down Block, Richie faces his biggest gamble ever: attempting to outmaneuver the two forces closing in on him.
In Theaters: October 4, 2013; MPAA Rating: R (for language and some sexual content.); Genres: Thriller, Drama
Director: Brad Furman
Writers: Brian Koppelman, David Levien
Cast:  Justin Timberlake, Ben Affleck, Gemma Arterton, Anthony Mackie, Michael Esper, Oliver Cooper, Christian George, Yul Vazquez, John Heard
We went to see this Saturday night at Britton Plaza. It was OK, but I'm glad we didn't pay AMC prices.
Richie Furst (played by Timberlake) is a Princeton graduate student who promotes an online gambling site on campus, earning commissions to pay off his tuition. The school clamps down on his activities, and he loses all his savings on a last ditch all-or-none bet. He does some in-depth study of the site, and discovers it might be "cheating" (is anyone surprised). So Furst is off to Costa Rica to seek Ivan Block (Affleck), the kingpin of online gaming.
Block admires Furst's gambling acumen and hires him to be a trusted runner for his business affairs, which slowly show themselves to be less than on the level. When FBI agent Agent Zbysko (Anthony Mackie) enters the scene with his threats, Furst discovers he might have bitten off more than he could chew.
Lay didn't like Timberlake's acting, but I thought he did OK. Affleck was plausible as a villian. Gemma Arterton is supposed to be involved with one or both of the two main characters, but wasn't very convincing, and Mackie's character, is way over the top as an FBI agent, spilling into the film way to seldom to be convincing.
The movie is so-so, and not worth full admission. I'd wait until it's out on video.