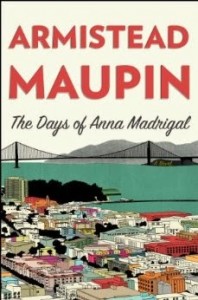 Without any doubt, my favorite series of books is the "Tales of The City" series written by Armistead Maupin. Now in case you don't know, Maupin grew up in Raleigh, NC, but was living in San Francisco when he started a serial for a local paper there.
Tales of the City is a series of novels, the first portions of which were published initially as a newspaper serial starting on August 8, 1974, in a Marin County newspaper, The Pacific Sun, picked up in 1976 by the San Francisco Chronicle, and later reworked into the series of books published by HarperCollins. The first of Maupin's novels, entitled Tales of the City, was published in 1978. Five more followed in the 1980s, ending with the last book, Sure of You, in 1989. In Babycakes, published in 1983, Maupin was one of the first writers to address the subject of AIDS. A seventh novel published in 2007, Michael Tolliver Lives, continues the story of some of the characters. It was followed by an eighth volume, Mary Ann in Autumn, published in 2010.
I started read the first three starting some time in late 80s, and then eagerly awaited the following three in the series. Each time a new book came out, I'd read all the earlier books. I enjoy reading, but I think these are the only books I have ever re-read.
And now, what Maupin calls the final book, "The Days of Anna Madrigal," is to be released later this month. There was an article published yesterday on The Guardian about Maupin and the series. It's worth a read:
Quentin Crisp once introduced him with the boast: "This is Mr Maupin. He invented San Francisco." More importantly, Maupin virtually invented the mainstreaming of gay life and helped the world see that "the gay experience" was nothing lesser or greater than human experience.
In doing so, he created a gloriously large world: his characters are a sprawling cast of eccentrics centred on 28 Barbary Lane, an address now firmly fixed in the canon of fictional residences. It's a household presided over by Anna Madrigal, the marijuana-growing, transgender landlady, who considers herself "a self-made woman […] no one else in the world like her". In The Days of Anna Madrigal, we find her as a 92-year-old, living with her ersatz family of strays and planning a trip to Burning Man, the week-long hippie bacchanalia held in the desert.
I've shared the books with friends, and love the cleverly intertwined stories and clever, authentic dialogue. This Christmas, I'd asked family and friends to start purchasing me the series of books as signed editions, and now have four (you can't borrow those, but I have wound up with more than one copy of the books). I'm waiting anxiously for the newest book to add to my bedside table.