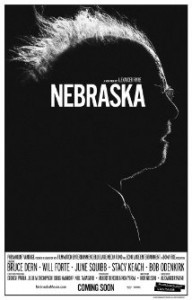 NEBRASKA is the story of a father and son road trip, from Billings, Montana to Lincoln, Nebraska that gets waylaid at a small town in central Nebraska, where the father grew up and has scores to settle. Told with deadpan humor and a unique visual style, it's ultimately the story of a son trying to get through to a father he doesn't understand, and a father trying to finish his life.
In Theaters: November 15, 2013; MPAA Rating: R (for some language); Genres: Drama, Comedy; Distributors: Paramount Pictures
Director: Alexander Payne
Writer: Bob Nelson
Cast: Bruce Dern, Will Forte, Bob Odenkirk, Stacy Keach, June Squibb, Devin Ratray, Mary Louise Wilson, Rance Howard, Tim Driscoll
"Nebraska" stars Bruce Dern playing Woody Grant, a 77-year-old who lives in Billings, Montana. Woody's received at Publisher's Clearinghouse type sweepstakes mailing, and believes he's won a million dollars. Not trusting the Post Office with a million dollars, Woody sets off to Billings. Unable to drive, we see Dern on foot, hoofing his way on the outskirts of Billings and on his way to Lincoln, Nebraska to claim his prize. It's clear that the years have not been kind to Dern's character Woody. An alcoholic with some obvious signs of dementia, Dern plays the character perfectly.
Woody's son David, played by Saturday Night Live alum Will Forte, sells home theaters and other consumer electronics in a Billing's appliance store, drives a dented Suburu wagon, and has the usual dysfunctional relationship with his increasingly disconnected father. After Woody makes several attempts on his own to escape Billings and make it to Lincoln, David agrees to take Woody to Lincoln. Events along the way take both Woody and David to Woody's tiny fictional hometown in northeast Nebraska where Woody's past is brought into more clear focus.
And there you have the setup for another of director Alexander Payne's wonderful road-trip comedies, cast from the same mold as "About Schmidt" and "Sideways." This movie takes us through Woody's long past so that the present can seen with sharper focus. If you like those movies, you will love "Nebraska" too.
The movie is shot is black and white, but you can't really imagine it in color. It would just not play the same, and is so natural, in short order, you no longer notice it. The story plays out as a slow, bleek tragedy, with some very funny moments. It all rings true, and coming from a small town, it all just feels authentic.
There's one more thing you will also love and that is June Squibb's portrayal of Woody's wife Kate. Squibb plays Kate as a force of nature with a mouth that's funny, insightful, profane, and sometimes tender. If I have any quibble with this film, it's that I think Squbb's character was just a bit over the top. This is not a criticism of Squibb, but some of the lines and actions were a bit much.
This is a very funny movie with some poignant statements to make about aging, fmaily relationships, and how our past can influence our present. In that way, "Nebraska" is just like Payne's other road-trip movies. But "Nebraska" is its own story with a unique take. Since this came out in 2013, me and Lay are both calling this our favorite movie of 2013.

(1 votes, average: 9.00 out of 10)


Loading...