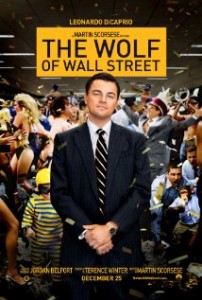 This is the true story of the outlandish rise and non-stop pleasure-hunting descent of Jordan Belfort, the New York stockbroker who, along with his merry band of brokers, makes a gargantuan fortune by defrauding investors out of millions. Belfort transforms from a righteous young Wall Street newcomer to a thoroughly corrupted stock-pumper and IPO cowboy. Having quickly amassed an absurd fortune, Jordan pumps it back into an endless array of aphrodisiacs: women, Quaaludes, coke, cars, his supermodel wife and a legendary life of aspiration and acquisition without limits. But even as Belfort's company, Stratton Oakmont, soars sky-high into extremes of hedonistic gratification, the SEC and the FBI are zeroing in on his empire of excess.
In Theaters: December 25, 2013; MPAA Rating: R (for sequences of strong sexual content, graphic nudity, drug use and language throughout, and for some violence); Genres: Drama, Crime, Biopic, Adaptation; Run Time: 2 hours and 59 minutes
Director: Martin Scorsese
Writing Credits: Terence Winter (screenplay), Jordan Belfort (book)
Cast: Leonardo DiCaprio, Jonah Hill, Jean Dujardin, Rob Reiner, Matthew McConaughey, Kyle Chandler, Jon Favreau, Margot Robbie, Jon Bernthal, Cristin Milioti, P.J. Byrne, Ethan Suplee, Kenneth Choi, Jake Hoffman, Christine Ebersole, Shea Whigham, Barry Rothbart, Danny Abeckaser
Me and Lay watched this movie at the AMC Regency 20 in Brandon. The theater was less than half full, yet amazingly a couple had to sit in our row, and talk through the entire movie, and the woman had to fire up her cell phone screen from time to time. (And these were adults.)
If you read the reviews on the web, this movie is all over the place on how people have rated it and reacted to it. We both enjoyed the movie overall, but I can see how many people reacted negatively to it. On IMDB, there are two reviews side-by-side with one person saying this DiCaprio's crowning movie, while the one right below says, "Scorsese & DiCaprio were apparently too dense to realize that his book was yet another of his [Belfort's] scams."
One complaint I've seen is that there is no character development, that the characters are all one-dimensional, and all about drugs, sex and greed. The problem with that evaluation is that this is the point of the movie. That is what these guys were all about, and not much else matters. It is necessary, therefore, to show drug use and sex, and Scorsese shows plenty of it. I'm no prude, but I think the point could have been made in less than three hours with some judicious editing. It did get a little repetitive.
I do think all the actors, including DiCaprio played their parts well and does bring a critical intensity to the character. We do see DiCaprio start out as a bit of a "boy scout," and transform into the money-grubbing, drug addled playboy. I do think the movie is a good depiction and cautionary tale of the excesses of Wall Street in 80s and 90s, and even into today.
My overall take? It's good entertainment for adults. I think it should have had a NC17 rating, so beware, don't take the kids or your mother. While all the actors played their parts well, the story got a bit repetitive, and maybe over simplified the story just a bit. It was, however, worth the price of admission.