Wow, I am way behind getting my movies reviewed, but we also haven't been to see as many lately. I also haven't been writing much here, as I've been writing for hours every day for work, so there's little enthusiasm left at the end of the day, to keep writing. But, I want to do better, so here I am trying to catch up some.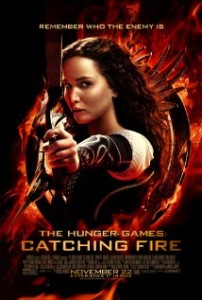 A year after winning the 74th Hunger Games, Katniss Everdeen and her partner, Peeta Mellark must go on what is known as the Victor's Tour wherein they visit all the districts. But before leaving, Katniss is visited by President Snow who fears that Katniss defied him a year ago during the games when she chose to die with Peta. With both Katniss and Peeta declared the winners, it is fueling a possible uprising. He tells Katniss that while on tour she better try to make sure that she puts out the flames or else everyone she cares about will be in danger. But unfortunately she fails to do that. So Snow decides to enact what is known as the Quarter Quell, the right to make a change to the Hunger Games, which he is allowed to do every 25 years. He decides to hold an edition of the Hunger Games wherein previous winners will compete again. Their mentor Haymitch thinks their best chance to survive is form an alliance with some of the others. They decide to align themselves with Finnick and his partner, Mags. But Snow is secretly hoping Katniss will be killed.
Director: Francis Lawrence
Writers: Simon Beaufoy (screenplay), Michael Arndt (screenplay), Suzanne Collins (Novel)
Cast: Jennifer Lawrence, Liam Hemsworth, Jack Quaid, Taylor St. Clair, Sandra Ellis Lafferty, Woody Harrelson, Josh Hutcherson, Paula Malcomson, Willow Shields, Donald Sutherland, Elizabeth Banks, Bruce Bundy, Nelson Ascencio, Lenny Kravitz, Stanley Tucci
Run Time: 46 min Category: Adventure, Sci-Fi Relase Date: 22 November 2013
I never expected to like either of the Hunger Games movies, but me and Lay liked both. He liked this one slightly less, but I thought it a was very good sequel. We always find people in the games to root for, and of course, they always die.
In the second part of the series, the main characters Katniss (Jennifer Lawrence) and Peeta (?Josh Hutcherson) are forced to take part in the 75th hunger games and present their districts. But this year is not like the year before because there can only be one winner. In the arena, they have to fight against the other tributes from the other districts but it's different this time because Katniss and Peeta form a group to survive.
The love story between Katniss and Peeta is complicated because Katniss actually fancies Gail (Liam Hemsworth) with whom she was together all her childhood. But all she and Peeta went through in the past welded them together and you can see how Katniss slowly develops feelings for Peeta. But Peeta has a crush on Katniss and says that he would rather die than live without her. It's cute that he says something like that because it shows how much he loves her. You can say it's really touching and it is a proof of love to Katniss.
All in one the movie is really gripping and worth seeing. When you watch it, it is like you are with them in the arena and feel with them. You don't know what is going to happen and you're feeling scared at some points but then there are scenes in which you feel joy and happiness. We really like the movie because for us it's a movie you can always watch and it never ever gets boring.