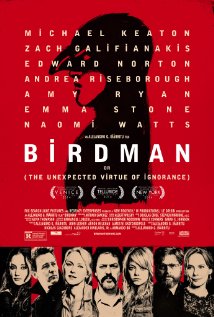 Riggan Thomas, once known quite well to movie theater goers as an iconic super hero called "The Birdman" had recently turned down a third installment of the franchise. Now washed up, he attempts to reinvent himself as a director by staging a new retelling of a classic Broadway dramatic play called "What We Talk About When We Talk About Love". The events leading up to the Saturday night premiere prove to be one disaster after another as the original lead actor is injured while on set and Riggan scrambles to find a replacement, but the replacement proves to be exactly who he needs – a method actor who takes the job way too seriously. But Riggan has a hard time juggling between the set, his replacement actor, his equally washed up daughter, and a host of other disasters that prevent a proper staging of the play. Meanwhile, a New York Times critic who Riggan has to woo threatens to shut down production of the play before it even starts with a scathing review of the dress rehearsal. Does Riggan have a hit on his hands or will he even make it to opening night?
Runtime: 119 min; Rated: R; Genre: Comedy, Drama; Released: 02 Jan 2015
Director: Alejandro González Iñárritu
Writer: Alejandro González Iñárritu (screenplay), Nicolás Giacobone (screenplay), Alexander Dinelaris (screenplay), Armando Bo (screenplay)
Stars: Michael Keaton, Emma Stone, Kenny Chin, Jamahl Garrison-Lowe, Edward Norton
We saw this last Friday at the AMC Theater in Brandon. Attendance was kind of sparse. l found the movie enjoyable, but not on my top 10 list for the year. 
A few caveats: Edward Norton's self-centered asshole actor character is a bit one-dimensional, occasionally over-the-top, but always interesting, if not a scene-stealer. A few parts of the script are predictable (I was anticipating some lines of dialog before they were spoken), and the story premise itself isn't original, but has had variations done many times before (a middle aged former superstar actor/athlete/lawyer/criminal who's fallen on hard times goes for one last shot at redemption in a winner-takes- all gamble). Having said that, the combined talents in this endeavor manage to put together an extraordinary work of art, flaws and all, and for those who are tired of Hollywood drivel with caped crusaders and CGI explosions, this is the right antidote. A feast for the eyes, ears and brain.
Many people are praising the cinematography style of making the film seem to be one long sequence shot with lots of following shots using a steady cam. I thought it was over-used. I realize the "behind-the-scenes" areas of theaters are not always the most elegant and well planned, but the theater portrayed here must have had 200 miles of corridors and staircases, and I was tired from all the walking. It can be an effective technique, but like most things, it's better in moderation.
The sound track was very understated, and just the right fit for the film. As noted above, the actors all handled their parts perfectly, but story was a little light. Do not expect things to be all nicely tied up at the end.
It is worth the time to watch, but I'd wait to see it at a dollar movie or Redbox. In fact, as I think about it, the intimacy the director is trying to achieve might come through better on a small screen.