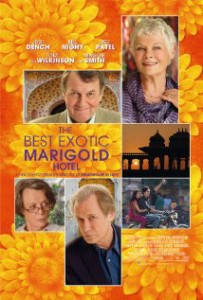 Seven elderly Britons, for a variety of reasons, respond to an online ad and travel to Jaipur, India, where they find run-down hotel with a young, exuberant, and optimistic host. Evelyn, newly widowed, wants low-cost experience, Graham seeks a long-ago love, Douglas and Jean have lost their pension in a family investment, Muriel needs cheap hip surgery, Madge seeks a rich husband, and Norman is chasing women. India affects each in different ways, enchanting Douglas and Evelyn while driving Jean deeper into bitterness. Their host, young Sonny, has dreams but little cash or skill; he also has a girlfriend whom his mother dismisses. Stories cross and discoveries await each one.
Runtime: 124 min; Rated: PG-13; Genre: Comedy, Drama; Released: 25 May 2012
Director: John Madden
Writer: Ol Parker (screenplay), Deborah Moggach (novel)
Stars: Judi Dench, Tom Wilkinson, Patrick Pearson, Hugh Dickson, James Rawlings, Bill Nighy, Penelope Wilton, Maggie Smith, Liza Tarbuck, Paul Bhattacharjee, Lucy Robinson, Ronald Pickup, Celia Imrie
Lay had to work Saturday, so after chores were done, I watched this. I found it to be a grand and fun movie, with adorable characters who made me want to see more.
The movie was panned by many critics, but I have to disagree with them. I was laughing out loud, smiling throughout, and clapped at the end. I read one newspaper critic who said the characters didn't have enough depth. I guess I understand that, but it was an ensemble cast, and only a 2 hour movie. There's only so much you can do, but I got enough to actually come to like and root for the characters, and now I want to see the sequel.
Apart from India itself – which is a star in its own right – it is the performances from this stellar cast that really make this movie. At times it was like an acting masterclass, but never could you see the cogs turning. The central characters were all wholly believable, and to be honest I find it impossible to single anyone out, although if I had to, my vote would probably go to Bill Nighy. He is just superb as Douglas – the apologetic, hesitant, henpecked husband of the self-centred, bitter, scolding Jean portrayed by Penelope Wilton, who is also excellent. There is one particular scene between the two, where Douglas, for once bites back – and the emotion from Nighy is just mesmerizing to watch. When you add the likes of Dames Maggie Smith and Judy Dench to the mix, the delicious Celia Imrie, Tom Wilkinson and Ronald Pickup (with an honourable mention to the latter, who brought a wonderfully rakish comedic performance to the mix) – and you can't go wrong.
The younger cast members and all the supporting players do an excellent job – but it is the seniors who steal the show. The film is full of emotion from joy and delight to fear and racism, and all are dealt with masterfully. Do yourself a favor and see this one.