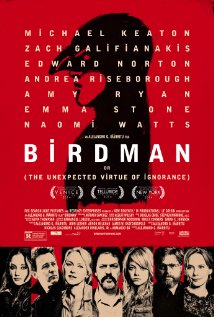 Riggan Thomas, once known quite well to movie theater goers as an iconic super hero called "The Birdman" had recently turned down a fourth installment of the franchise. Now washed up, he attempts to reinvent himself as a director by staging a new adaptation of a Raymond Carver short story called "What We Talk About When We Talk About Love". The events leading up to the Saturday night premiere prove to be one disaster after another as the original lead actor is injured while on set and Riggan scrambles to find a replacement, but the replacement proves to be exactly who he needs – a method actor who takes the job way too seriously. But Riggan has a hard time juggling between the set, his replacement actor, his equally washed up daughter, and a host of other disasters that prevent a proper staging of the play. Meanwhile, a New York Times critic who Riggan has to woo threatens to shut down production of the play before it even starts with a scathing review of the opening night performance. Does Riggan have a hit on his hands or will he even make it past opening night?
Runtime: 119 min; Rated: R; Genre: Comedy, Drama; Released: 14 Nov 2014
Director: Alejandro González Iñárritu
Writer: Alejandro González Iñárritu (screenplay), Nicolás Giacobone (screenplay), Alexander Dinelaris (screenplay), Armando Bo (screenplay)
Stars: Michael Keaton, Emma Stone, Kenny Chin, Jamahl Garrison-Lowe
We watched this nearly a month ago, and I'm just getting to writing the review. 'Birdman' is the latest overpraised and over-hyped 'art' film by the acclaimed director Alejandro González Iñárritu. Michael Keaton, who was known for playing Batman in the late 80s and early 90s, is cast here as Riggan Thomson, a washed-up Hollywood actor, once famous for playing a superhero Birdman character in the movies, now making a comeback on Broadway, acting in an adaptation of a Raymond Carver short story. He's wanting to try to regain some credibility.
The entire film is shot as if it's one long take in a cinema verité style. But that finally started to feel somewhat fake because everyone just walked up and down narrow staircases. While I realize the backstage of a theater would have a lot of narrow passage ways, This backstage must have been the size of a football field.
It wasn't a awful movie, and it left us talking some afterwards, it's best watched at home. I just didn't think it was worth the money.