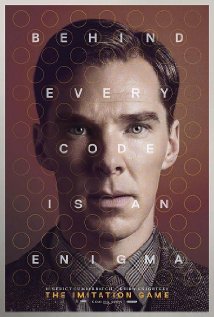 Based on the real life story of legendary cryptologist Alan Turing, the film portrays the nail-biting race against time by Turing and his brilliant team of code-breakers at Britain's top-secret Government Code and Cypher School at Bletchley Park, during the darkest days of World War II.
Runtime: 114 min; Rated: PG-13; Genre: Biography, Drama, Thriller; Released: 25 Dec 2014
Director: Morten Tyldum
Writer: Andrew Hodges (book), Graham Moore (screenplay)
Stars: Benedict Cumberbatch, Keira Knightley, Matthew Goode, Rory Kinnear
As the movie begins we hear Alan Turing saying, "Are you paying attention? Good. If you're not listening carefully, you will miss things. Important things. I will not pause, I will not repeat myself, and you will not interrupt me. You think that because you're sitting where you are and I am sitting where I am, that you are in control of what is about to happen. You are mistaken. I am in control. Because I know things that you do not know. What I need from you now is a commitment. You will listen closely and you will not judge me until I am finished. If you cannot commit to this, then please leave the room. But if you choose to stay, remember that you chose to be here. What happens from this moment forward is not my responsibility. It's yours. Pay attention."
My strong suggestion is that you stay in the room and pay attention. The screenplay and direction are tight with nary a wasted scene or word of dialogue. The tension starts with that opening dialogue, and continues right to end of the film. The film switches between the team of code breakers at Betchly Park trying to solve the Enigma code, young Alan Turing at boarding school, and the events after the war that destroyed his life.
It is truly heartbreaking in places, and Benedict Cumberbatch's performance as Alan Turing is outstanding. He really deserves an Oscar nomination for his performance. Keira Knightly couldn't have played her role any better, and even Alex Lawther, who played the young Turing, perfectly captured the ticks and idiosyncrasies which Cumberbatch brought to the part. The entire cast is on point, and the story not only covers their stories in-depth, but also shows up the hard choices that sometimes must be made.
Some have been disappointed that the film did not delve more deeply into Turing's personal life, particularly after the war, but sometimes less is more, and in this case, I think that's true. We cut, finally to the end of his life, and find where society has driven one of the greatest minds. Oh, what could have been.
I would have turned around and watched the movie again. Definitely see this film.