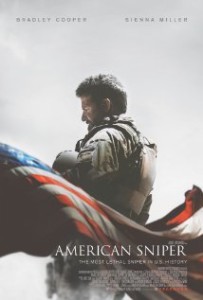 Chris Kyle was nothing more than a Texan man who wanted to become a cowboy, but in his thirties he found out that maybe his life needed something different, something where he could express his real talent, something that could help America in its fight against terrorism. So he joined the SEALs in order to become a sniper. After marrying, Kyle and the other members of the team are called for their first tour of Iraq. Kyle's struggle isn't with his missions, but about his relationship with the reality of the war and, once returned at home, how he manages to handle it with his urban life, his wife and kids.
Director: Clint Eastwood
Writer: Jason Hall, Chris Kyle (book), Scott McEwen (book), James Defelice (book)
Stars: Bradley Cooper, Kyle Gallner, Cole Konis, Ben Reed
Runtime: 132 min; Rated: R; Genre: Action, Biography, Drama; Released: 16 Jan 2015
We watched this one in the theater a couple of weekends ago. I'm sorry to just now be getting around to writing my review. Me and Lay both thought this movie was OK. I suspect he liked it a bit more. I had some trouble separating the politics, the biography, and the movie.
I think there is a lot of complexity in reviewing this movie. A lot of war politics has been attached to this film, and there's little doubt that the authors of the book, including Kyle, were out to ensure a heroic legacy for the main character, and less doubt that Eastwood was interesting in furthering the cause, and creating some good "war porn," as I've heard it called.
The script and directing, however, were competent, and Bradley Cooper certainly took the part seriously, and did a very nice job. The battle scenes did seem to convey a sense of realism. The main character was portrayed a little too much as the stuff of perfect heroism.
I'd like to address some of the politics and comments that have arisen about Kyle, his story, snipers, and the Iraq war, but I'm trying to keep those as separate topics, so I'll cover those in another post.
All-in-all, I thin the film is worth seeing, but don't try to see the film, and draw conclusions about war writ large, the Iraq War, or our mission there. It's not that kind of film.