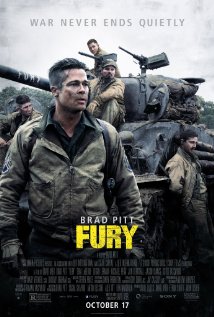 April, 1945. As the Allies make their final push in the European Theatre, a battle-hardened army sergeant named Wardaddy commands a Sherman tank and his five-man crew on a deadly mission behind enemy lines. Out-numbered, out-gunned, and with a rookie soldier thrust into their platoon, Wardaddy and his men face overwhelming odds in their heroic attempts to strike at the heart of Nazi Germany.
Director: David Ayer
Writer: David Ayer
Stars: Brad Pitt, Shia LaBeouf, Logan Lerman, Michael Peña
Runtime: 134 min; Rated: R; Genre: Action, Drama, War; Released: 17 Oct 2014
I watched this on my day off for President's Day at home.
Big war movies with the participation of famous actors have always generally generated high ticket sales. No Fury is no exception, where Brad Pitt for "older" generation and Logan Lerman and Shia LaBeouf for "younger" generation are definitely the names to attract audience. And yes, they do great in this movie, pity that LaBeouf's character was not so elaborated and spent limited time on screen. All three have successfully diverged from plain "nice-guys-with-cute-faces" roles and have (Pitt, LaBeouf) or attempting to (Lerman) participate in something more versatile and dramatic.
Fury has firm expectations for this, but unfortunately the script has focused on action and battling rather than smooth chronology of events. Clichéd characters and unrealistic events and solutions prevail too much, and feeling of time and space is impaired on several occasions.
It was worth watching, and much of the action was realistic, but in some cases logic has to be stretched a little.