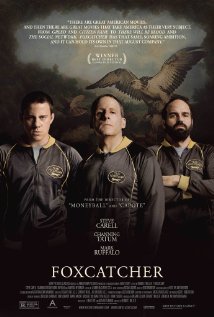 Based on true events, Foxcatcher tells the dark and fascinating story of the unlikely and ultimately tragic relationship between an eccentric multi-millionaire and two champion wrestlers. When Olympic Gold Medal winning wrestler Mark Schultz (Channing Tatum) is invited by wealthy heir John du Pont (Steve Carell) to move on to the du Pont estate and help form a team to train for the 1988 Seoul Olympics at his new state-of-the-art training facility, Schultz jumps at the opportunity, hoping to focus on his training and finally step out of the shadow of his revered brother, Dave (Mark Ruffalo). Driven by hidden needs, du Pont sees backing Schultz's bid for Gold and the chance to "coach" a world-class wrestling team as an opportunity to gain the elusive respect of his peers and, more importantly, his disapproving mother (Vanessa Redgrave). Flattered by the attention and entranced by du Pont's majestic world, Mark comes to see his benefactor as a father figure and grows increasingly dependent on him for approval. Though initially supportive, du Pont's mercurial personality turns and he begins to lure Mark into an unhealthy lifestyle that threatens to undermine his training. Soon du Pont's erratic behavior and cruel psychological game-play begin to erode the athlete's already shaky self-esteem. Meanwhile du Pont becomes fixated on Dave, who exudes the confidence both he and Mark lack, knowing that these are things even his money cannot buy. Fueled by du Pont's increasing paranoia and alienation from the brothers, the trio is propelled towards a tragedy no one could have foreseen.
Director: Bennett Miller
Writer: E. Max Frye, Dan Futterman
Stars: Steve Carell, Channing Tatum, Mark Ruffalo, Sienna Miller
Runtime: 134 min, Rated: R, Genre: Biography, Drama, Sport, Released: 16 Jan 2015
Yes, I am still catching up writing my reviews. Me and Lay watched this on Amazon Streaming over a month ago. Well worth watching. There's not much to criticize.
Nearly every moment hurts because of how wonderfully the roles are played. Steve Carrell deserves all the praise he's received for his role. You never know what to think about his character, and I believe that's supposed to be the point. He creeps you out. It's like a slow motion train-wreck, and even though you know how it ends, you can't stop watching.
With the help of absolutely convincing make-up that shapes the noticeably wicked/large nose and eerie teeth, Carell delivers a powerfully haunting performance as a socially isolated and awkward man, raised in an out-of-touch environment all his life, who is struggling with many egoistic and trust issues that endlessly vex him from within. You quickly forget it's Steve Carell, and he deserves all the praise he's received.
However, this is also Tatum's show as we follow the rise of this naïve meathead (how can I more politely describe him?) who is clearly vulnerable to being essentially puppeteer-ed by exploitive, power-hungry men. It's worth to point out just how Tatum's childlike, innocent personality here infuses us with total pity for his character while Ruffalo's usual warmth makes us sympathize as well. In fact, Ruffalo's performance is most subtle of all; he's obviously not as flamboyant as the other two and is instead relied on to show a certain human quality in an otherwise utterly cold picture. Dave Schultz is a big brother who's undoubtedly talented in the sport, but unlike the other two, his pride doesn't get the better of him since he continually seeks to improve his brother on that path to fame and success as well.
This is one to watch if you haven't already.