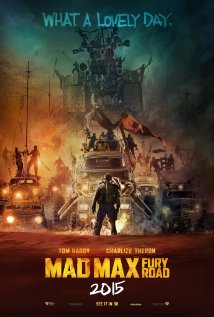 An apocalyptic story set in a stark desert landscape where humanity is broken, and almost everyone is fighting for the necessities of life, especially water. Within this world exist two rebels on the run who just might be able to restore order. There's Max, a man of action and a man of few words, who seeks peace of mind following the loss of his wife and child in the aftermath of the chaos. And Furiosa, a woman of action and a woman who believes her path to survival may be achieved if she can make it across the desert back to her childhood homeland.
Director: George Miller
Writer: George Miller, Brendan McCarthy, Nick Lathouris
Stars: Tom Hardy, Charlize Theron, Nicholas Hoult, Hugh Keays-Byrne, Josh Helman, Nathan Jones, Zoe Kravitz, Rosie Huntingon-Whiteley
Runtime: 120 min; Rated: R; Genre: Action, Adventure, Sci-Fi; Released: 15 May 2015
We watched this at Britton Plaza Theater a couple of weeks ago. I was surprised at how much I actually liked it. I was set for the disappointment that sequels usually bring. However, Mad Max: Fury Road is a visually stunning masterpiece by George Miller. It's been 30 years since Miller's last project: the last of the original Mad Max films, starring Mel Gibson. It delivered exactly what it promised.
As usual, it's set on an apolcalyptic world where there is scarcity of basic elements. Let's go over the one thing that I disliked about this film (and honestly, dislike is a strong word in this case): The exposition. Or rather, lack of it. The extreme pace of the film results in details seemingly whistling by, meaning it can leave you wondering whats going on. But then again, the actual story foundations for the film are so small that really, it doesn't matter that everything isn't explained.
What it chooses to focus on is an excellent cast, lovely cinematography and wondrous, wondrous carnage. Practical effects take the lead role here, with amazing vehicles, well-timed explosions and constant tension and thrill. Tom Hardy's Max is very much the usual gritty, rock solid reluctant hero that Gibson portrayed all those years ago. Charlize Theron's Furiosa turns in a strong performance. And for once, it's a female action hero who hasn't been raised or taught by other men – she's a real self-empowered hero. Nicholas Hoult's character is also a personal favorite, and the Brides and the Many Mothers created an ensemble of female characters that don't get wasted like they so often do in most action flicks.
Defintely worth seeing. I know it's mostly too late, but worth seeing on a big screen if possible.