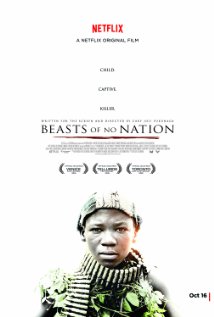 Follows the journey of a young boy, Agu, who is forced to join a group of soldiers in an unnamed West African country. While Agu fears his commander and many of the men around him, his fledgling childhood has been brutally shattered by the war raging through his country, and he is at first torn between conflicting revulsion and fascination Depicts the mechanics of war and does not shy away from explicit, visceral detail, and paints a complex, difficult picture of Agu as a child soldier.
Director: Cary Joji Fukunaga
Writer: Cary Joji Fukunaga (screenplay), Uzodinma Iweala (based on the novel by)
Stars: Abraham Attah, Emmanuel Affadzi, Ricky Adelayitor, Andrew Adote
Runtime: 137 min; Rated: NOT RATED; Genre: Drama, War; Released: 16 Oct 2015
We heard about this movie being on Netflix after hearing an interview with Cary Fukunaga on NPR's Fresh Air. We started a little late last evening, and I didn't expect to finish watching it before going to bed, but I couldn't stop watching. While based on a novel, it was, from all I've read, a realistic portrayal of the life of child soldiers, and it is a sad life.
"Beasts of No Nation" is a remarkably poignant film that leaves everything on the table. It's more than a war film – it's a portrait of human suffering, brutality, loss, love, and innocence. We see everything play out through the perspective of a child, and as such, we see the devastation that war brings to innocence. The movie takes the audience on an unrelenting journey through the eyes of a child soldier. This journey is incredibly emotional, heartbreaking, and brutal. Cary Fukunaga's masterful directing never loses focus on the affect that war has on the human condition, and on the corruption of childhood innocence by the brutality of mankind. This movie is difficult to recommend to just anyone; not because it isn't a great film – which it is – but because no one takes pleasure in watching a child's life fall to pieces.
Child actors are a dime a dozen, yet Abraham Attah is something else. He transcends the category and remains such a demanding presence throughout the entire film, matching even Idris Elba's poise. His character's transformation is just one of the remarkable feats of storytelling that Beasts of No Nation graces us.
This was a great film, but it's not for everyone.