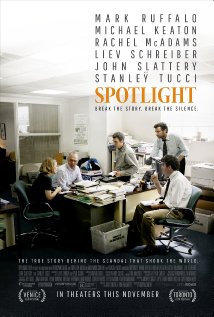 Starring Michael Keaton, Mark Ruffalo, Rachel McAdams, Liev Schreiber, Brian d'Arcy James and Stanley Tucci, SPOTLIGHT tells the riveting true story of the Pulitzer Prize-winning Boston Globe investigation that would rock the city and cause a crisis in one of the world's oldest and most trusted institutions. When the newspaper's tenacious "Spotlight" team of reporters delves into allegations of abuse in the Catholic Church, their year-long investigation uncovers a decades-long cover-up at the highest levels of Boston's religious, legal, and government establishment, touching off a wave of revelations around the world. Directed by Academy Award-nominee Tom McCarthy, SPOTLIGHT is a tense investigative dramatic-thriller, tracing the steps to one of the biggest cover-ups in modern times.
Director: Tom McCarthy
Writer: Tom McCarthy (screenplay), Josh Singer (screenplay)
Stars: Mark Ruffalo, Michael Keaton, Rachel McAdams, Liev Schreiber
Runtime: 128 min; Rated: R; Genre: Biography, Drama, History; Released: 31 Dec 2015We watched this movie about two weeks ago (yes, I've been slow to post), and it was well worth watching. The tension started at the beginning, and built-in intensity through the movie. Given that we know the outcome, this is particularly difficult to pull off, but the actors and Tom McCarthy mange to pull it off.
"Spotlight" isn't just "based on real events" like the title card suggests. It's practically a documentary in the way that it depicts the reporting that led to the unearthing of 2001's Boston Catholic Archdiocese scandal. Even though it begins with a brief going-away party, the main characters quickly shuffle back to their seemingly underground lair, full of notepads and desks and computers, where they yell down the phone and arrange their hectic schedules.
This is what some might call a "journalism procedural." Despite sounding boring, it's interesting to witness the work required to bring a major news story to print, including the dealings with lawyers on both sides, and power struggles among all the various players (politics, police, and morals all clash when it comes to combating the church).
There are almost no traditional storytelling techniques at work in "Spotlight." Adventure, romance, comedy, thrills, suspense, and even drama are generally absent, substituted by montages of door-knocking and phone-calling and book-reading. By most standards, this would all be unbearably dull.  Even when the pacing stumbles over the historical intervening of 9/11 or the many delays in courtroom proceedings, a certain pulse-pounding anticipation carries the story. It's riveting without much more than a raised voice or two. For many, this won't constitute movie material, but the understating of sensationalism and the authenticity of the ensemble performers makes for a powerful bit of entertainment.