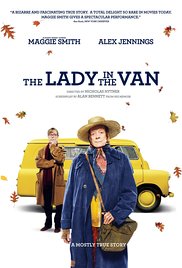 An eccentric (and decidedly grubby) aged lady parks her decrepit old van (which appears to contain her entire world goods) outside writer Alan Bennett's house in Camden. When the Council threatens to have it towed away, Bennett's diffidence leads to it being parked in his drive, to the consternation of his neighbors, where it – and she – stay for 15 years. As time passes, an odd relationship develops between them, and he begins to discover elements of her past.
Director: Nicholas Hytner
Writer: Alan Bennett
Stars: Maggie Smith, Jim Broadbent, Clare Hammond, George Fenton
Runtime: 104 min; Rated: PG-13; Genre: Biography, Comedy, Drama; Released: 15 Jan 2016
Based on a 1970s biographical drama of the same name by noted British playwright Alan Bennett, The Lady in the Van is a "mostly true story" as mentioned at the beginning of the film. That's because Bennett had to put up with an old homeless woman for 15 years by allowing her to live in her van in his driveway. Then in 1999, Bennett cast Maggie Smith as the titular hobo in his own play. Ironically, Smith plays the same character on screen little over 15 years later.
This was an entertaining, if slow paced film written by Alan Bennett. It was occasionally touching, and his unique voice is instantly recognizable: self-knowing, self-mocking, never ever self-regarding. Bennett adapted his memoir about Miss Shepherd, whose residence is the van (actually one of a series of vehicles, as it turns out) that occupies his driveway for fifteen years, for the stage, which brought director Nicholas Hytner and actors Maggie Smith and Alex Jennings on to the project. All three return for this film version, and an excellent job they make of it.
Hytner directed the film. Although having a few notable movies to his credit ("The Madness of King George", "The History Boys"), he is better known as a regular director for National Theater productions in London, and the film does have something of a theatrical feel about it. But as an example of a quintessential British film, based on a 'true' subject that seems barely credible, it makes for a heart-warming and entertaining trip to the movies.
Despite getting progressively typecast as a vaguely batty old woman, Dame Maggie excels as the troubled Miss Shepherd. It is difficult to imagine any other actress being able to pull off this larger than life role. When pathos is required (e.g. "Why did you choose to live like this?"; "I didn't choose… I was chosen") she delivers it in heart breaking fashion. But her more comic pronouncements, such as the one about the number of "young men" visiting Bennett's house at "every hour of the day and night" obviously being "communists", were hilarious. What appears on the surface to be a mildly humorous movie turned out to have some very funny moments.
I don't want to give away a spoiler, but Hytner used an unusual method to portray the thoughts of Bennett. I suspect it was better than narration, but I just couldn't get into it. Also, I don't where the film could be cut without loosing something, but it just seemed, despite enough tension about Miss Shepherd's real story, to be about 20 or 30 minutes too long.
I enjoyed the film, and shed a tear during one scene, but I wouldn't set this film at the top of my list of favorites. Lay liked it even less. Rate the film below, and let us know what you thought.