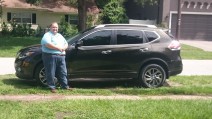 There, I said it. Back in late August I traded in my 2005 Nissan Pathfinder for a supposedly new 2015 Rogue. I based it on test drives and comparisons with a variety of similar crossovers, and reading reviews on several auto websites, combined with the price I got it for. I was fairly pleased, but in the past two months a number of critical components have failed, and Nissan and the dealership are unconcerned and actually fairly rude about it.
I was very happy with my Pathfinder. I purchased it used in about 2008, and by the time I traded it in, it had nearly 180,000 miles. I'd experienced one failure of some sort of electrical system box, and a transmission failure at about 90,000 miles caused by a design flaw in the radiator. I spoke with the regional manager for Nissan, and in the end he made good on that, and later Nissan issued an extended warranty to cover the issue, so that had given some confidence in Nissan. Other than those few issues, it had been little more than routine maintenance and stuff that wears out. The interior was certainly not in perfect shape, but was not in terrible shape, and the exterior showed some of nicks and dings you'd expect from a 10-year-old vehicle with that kind of mileage.
Things kind of started off bad when Nissan issued a major update to the navigation system, but wanted to charge $150 for the update. I did get customer service to agree to reimburse me for the update, and they did do that.
So, last month, on the Rogue, one of the power lift gate struts failed, and the lift gate would close out of align, preventing it from actually closing with power. In addition, for about a month, the steering wheel would move back and forth slightly on the horizontal, and you could hear it hear it hit at each end of the movement.
So, I first showed up at Courtesy Nissan of Tampa on the Sunday afternoon when the lift gate issue started. Their service department was open (I'd called ahead) until 4pm. I got there about 3:40 knowing they wouldn't be able to repair anything that day, but hoping to get it in the line, pick up the loaner, and not have to deal with it Monday morning. No such luck. The service techs on duty, one in particular, were sprawled out across their chairs, and informed me they were closed. I explained I had called and been told they were open until 4pm. They first claimed I'd obviously gotten an answering service in the Philippines which was always giving out wrong information, so I asked why there were there if they were closed. Then they backed off admitting they were open until 4, but they couldn't do anything for me that late. I just left before I got myself in trouble.
I took it in Monday morning and had a conversation with someone I was told was the Assistant Manager of the Service Department. They kept it three days, only getting the power lift gate strut replaced. Apparently the steering column they needed was on back order. (This is an indication to me that steering column issue may be somewhat widespread, but I don't know.)
In the meantime I'd attempted to talk with someone at Nissan USA, but alas this was when I was getting someone in the Philippines…because nothing says USA like the Philippines.  I was given a case number, and finally heard from a guy named Justin in Nissan Consumer Affairs. He was supposedly my "customer advocate." Well, Nissan has a strange description of customer advocacy. To them, it apparently means, deflect, deny and be as nasty and dismissive as possible, because that's the attitude I got from Justin.
His explanations for the failure of two fairly important components at only five months was that "people make these parts, and people aren't perfect." Well, I get that, but apparently all my components were made on a Friday afternoon, and the vehicle assembled the next Friday afternoon before the company picnic. The only information he was interested in providing me was that the part (steering column) would be at the dealership that coming Saturday. I expected a call from the dealership Saturday, or at least Monday to let me know the part was in, and to schedule the service. On the Wednesday after the promised Saturday, I called Justin back, having heard nothing from anyone at the Courtesy Nissan. When he finally called me back the next day, I was told the part had just arrived. He didn't have any explanation for why his original information was off by nearly a week.
And now, there is a seam ripping in the driver's seat. Keep in mind that I've had the car for about six months. I took it in first thing Monday morning. They walked around, scratched their chins at took pictures at the dealership (Courtesy Nissan), and now, as of Wednesday, I've not heard anything.
I did not buy the Pathfinder from Courtesy, but had two "encounters" with them in the intervening time, neither of which was good. When I was shopping for the vehicle, I used TrueCar, and so had to give contact info, and got a call from some young punk at Courtesy. I was ready to make a deal with the St. Pete dealer, as their TrueCar price was less, but the guy at Courtesy insisted they were largest Nissan Dealer in the Southeast, and there was no way they couldn't beat the price being offered by the other dealer, all I had to do was come by. I wanted to handle it all on-line, but he insisted I had to come by. I described the trim package I wanted and the colors I'd be OK with, and he assured me they would have what I was looking for.
I should have followed my gut, ignored his call, and went ahead with the St. Pete dealership. I decided to go by, and he came out rather upset I hadn't made an appointment. I had told him that there were only two colors I was not interested in, and he came up with one car in my trim package, and it was one of the two colors I had said I didn't want. In addition, the price, which he had guaranteed would be less than the price of the other dealer was, in fact, $2,000 higher. I was insulted, told him so, and got up to leave. He, as they do, begged me to talk to his manager. I did, got a new salesperson, and a was promised a decent deal, and that they'd get me in the car I wanted. They did finally beat the price of the other dealer, and brought in a car in he color and package I wanted.
But now that the sale is made, they're not interested anymore. The service manager, Rich Phelps,  would only to speak to me over the phone. He's apparently too good to talk to me in person, and the new regional manager for Nissan doesn't condescend to talk to actual customers, and Justin, in customer service, insists that no one above him is interested in talking to customers either.
I was actually told by the Courtesy Service Manager, Rich Phelps, "That's what the warranty is for." Well, I can't disagree, but what I'd prefer is to have a reliable car, that I don't have to take to the shop weekly when it's only five months old. His response to that was, "Has the car left you stranded anywhere?" Well, no it hasn't, but at the given rate of failure, I'd have to say that's just a matter of time. Mr. Phelps went on to say that in his years in the business, my experience was not out of the ordinary…so I presume he's saying Nissans suck, and are prone to this many failures in the first year of service.
I made a terrible mistake, and I would encourage others to avoid the Nissan Rogue. The quality standards are obviously lower on this vehicle than they were on my previous vehicle. Even the Courtesy Nissan Service Manager says my experience is not unusual.