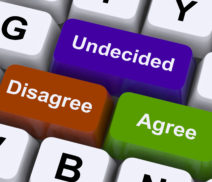 OK, the field has been narrowed. I suppose many will say it's really down to Hillary v. Trump, but since I'm supporting Bernie, I'm going to leave him on the list for now (although I concede Secretary Clinton is the presumptive nominee). I also concede that Trump is the presumptive nominee for the Republicans <shudder>. However, despite some signs the Republicans are resigning themselves to that reality, I'm just not totally convinced they are going to let this happen. I also know Paul Ryan said "no-way," but the guy is still being talked about.
I'm going to write more in a later post about why I think he won't run this cycle.
Anyway, vote in our very unscientific poll.
OK, so who's your choice for President 2016?
Bernie Sanders (20%, 9 Votes)
Undecided (2%, 1 Votes)
Hillary Clinton (35%, 16 Votes)
None of the above (15%, 7 Votes)
Donald Trump (24%, 11 Votes)
Paul Ryan (4%, 2 Votes)
Total Voters: 46

Loading ...