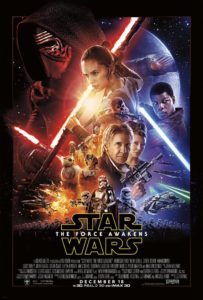 A scavenger (Daisy Ridley) and a renegade stormtrooper (John Boyega) enlist the help of legendary smugglers/freedom fighters Han Solo (Harrison Ford) and Chewbacca to transport a droid carrying information regarding the whereabouts of long-lost Jedi Master Luke Skywalker to General Leia Organa of the Resistance before it falls into the hands of Kylo Ren and the First Order.
Director: J.J. Abrams
Written by: Lawrence Kasdan, J.J. Abrams, Michael Arndt
Cast: Harrison Ford, Anthony Daniels, Carrie Fisher, Peter Mayhew, Oscar Isaac, Lupita Nyong'o, Adam Driver, Gwendoline Christie, John Boyega, and Daisy Ridley
Lay was working today, Saturday, so I finally watched this on Amazon.
When I read the title of one of the IMDB user reviews, I think that about said it all, "It's like when an unknown Chinese manufacturer decided to make a fake iPhone" I think J.J. Abrams is a talented director, but he dropped the ball on this one.
It was very predicatable…in fact, way too predictable. The actors did the best they could with the characters they were given to play, but those were sorely lacking, but the characters themselves lacked any depth or backstory. A couple of new characters were introduced, but hurriedly with no obvious explanation or background. There was a typical Starwars bar scene with the usual collection of strange characters, but at least, we were mostly spared the introduction of any more cutsie key characters.
Overall, I was disappointed.