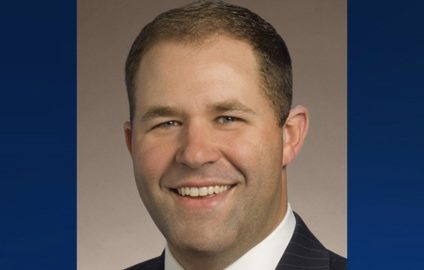 For giving away not one, but two, AR-51s as a fundraiser, we award West Tennessee lawmaker Andy Holt our Douche-Bag of the Day Award for exemplary douche-baggery.
First, a little about Holt (R-of course).  According to Daily Kos, "Holt previously made (local) news when he played tough guy telling the President of the United States to "shove it" when the Commander in Chief made a speech about tightening gun controls in January 2016. He's also a classic conservative. He brags about his extreme "pro-life" views (endorsed by Tennessee Right to Life), yet thinks it is A-OK for everyday, unstable maniacs to have unfettered access to weapons of war. But, don't worry, y'all. He's not trying to be offensive. "
So, what's he up to now? Well, he had planned to give away an AR-15 at an upcoming fundraiser. But, he had second thoughts about that after it was determined that was the gun used by the shooter in the Orlando massacre. Now, he's going to give away 2 AR-15s. When asked if he thought giving away an assault-style rifle might be offensive, Holt said, "It's not intended to come across as offensive, it's intended to help people."
So, for maybe having one of the most hateful and insensitive responses to the Orlando Massacre (some Christian Pastors excluded), we award Andy Holt our Douche-Bag of the Day award.