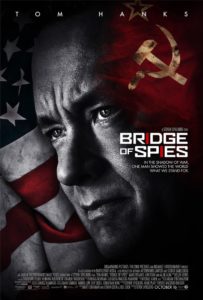 During the cold war, a lawyer, James B. Donovan is recruited by the CIA and involved in an intense negotiation mission to release and exchange a CIA U-2 spy-plane pilot, Francis G. Powers. The pilot was arrested alive after his plane was shot down by the Soviet Union during a mission and stays in the company of a KGB intelligence officer, Rudolf Abel, who was arrested for espionage in the US.
Director: Steven Spielberg
Writer: Matt Charman, Ethan Coen, Joel Coen
Stars: Tom Hanks, Alan Alda, Mark Rylance, Domenick Lombardozzi, Victor Verhaeghe, Mark Fichera
Runtime: 142 min; Rated: PG-13; Genre: Drama, History, Thriller; Released: 16 Oct 2015
Lay wasn't feeling great, so after going out to grab a bite, we came home and watched this from Amazon, and we both enjoyed the movie a great deal.
It's a little hard to imagine Steven Spielberg directing a Coen Brother's film, but it is a great combination. Of course you expect a political drama about the cold war, and while indeed it was that, I was not expecting to have so much fun and for Bridge of Spies to be so humorous.
Tom Hanks does what he does best, by playing an everyday man in an average life. James Donovan was just an insurance lawyer who gets caught up in the middle of the Cold War. Bridge of Spies, starts him off so normal and then turns his life into quite an adventure. Watching Hanks play Donovan who is just swept into an overwhelming situation and just keeps his cool and his charm is just highly enjoyable. The other standout performance was Mark Rylance as Russian Spy, Rudolf Abel. He played the part perfectly with great stoicism, and was a great foil to Hanks' Donovan.
In the hands of Spielberg, the movie's visuals were large and epic. Donovan, in one scene, after crossing the border between west and east Berlin, loses his coat, and you feel the cold, bleakness and desperation of that side of the wall. Along with touches of humor was an underlying tension that was maintained for the entire story.
Totally loved Bridge of Spies, It's one of the best team ups between Hanks and Spielberg. Bridge of Spies is everything Spielberg is capable of.