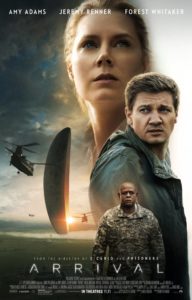 When mysterious spacecraft touch down across the globe, an elite team – led by expert linguist Louise Banks – is brought together to investigate. As mankind teeters on the verge of global war, Banks and the team race against time for answers – and to find them, she will take a chance that could threaten her life, and quite possibly humanity.
Director: Denis Villeneuve
Writer: Eric Heisserer (screenplay), Ted Chiang (based on the short story "Story of Your Life" written by)
Stars: Amy Adams, Jeremy Renner, Michael Stuhlbarg, Forest Whitaker
Runtime: 116 min; Rated: PG-13; Genre: Drama, Mystery, Sci-Fi; Released: 11 Nov 2016
Veteran's Day was a holiday for me, but not Lay, so I went to watch this movie. It was well worth the ticket price.
After the arrival of twelve alien vessels on Earth, the government and military enlist the help of Louise, a communications expert in an attempt to make contact with the interplanetary visitors.
It's excellent filmmaking – with Young's beautiful cinematography blended with rich and detailed CGI, combined with Johannsson's wonderfully complex score, it's one of the great sensory experiences of the year. As a narrative it's also stunning. Not simply a story of alien invasion or contact, but a gritty and thought-provoking view of humanity and our place in the universe.
Forest Whitaker plays a no-nonsense stock role here and makes it his own, as does Coens' regular Michael 'A Serious man' Stuhlbarg, and they both bring their respective gravitas to stock roles and yet perform well, but this movie belongs to Amy Adams, whole & soul.
It is an excellent, thought-provoking experience which would play wonderfully as a follow-on to "Contact." Once it is out on video, I'd like to watch them back-to-back.
I'd give it 8 stars, what about you?