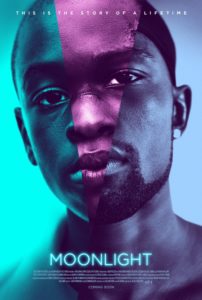 Three time periods – young adolescence, mid-teen and young adult – in the life of black-American Chiron is presented. When a child, Chiron lives with his single, crack addict mother Paula in a crime ridden neighborhood in Miami. Chiron is a shy, withdrawn child largely due to his small size and being neglected by his mother, who is more concerned about getting her fixes and satisfying her carnal needs than taking care of him. Because of these issues, Chiron is bullied, the slurs hurled at him which he doesn't understand beyond knowing that they are meant to be hurtful. Besides his same aged Cuban-American friend Kevin, Chiron is given what little guidance he has in life from a neighborhood drug dealer named Juan, who can see that he is neglected, and Juan's caring girlfriend Teresa, whose home acts as a sanctuary away from the bullies and away from Paula's abuse. With this childhood as a foundation, Chiron may have a predetermined path in life, one that will only be magnified in terms of its problems when he reaches his difficult teen years when peer pressure affects what he and many of his peers do, unless he follows Juan's advice of truly making his own decisions for himself.
Director: Barry Jenkins
Writer: Barry Jenkins (screenplay), Tarell Alvin McCraney (story by)
Stars: Mahershala Ali, Shariff Earp, Duan Sanderson, Alex R. Hibbert
Runtime: 111 min; Rated: R; Genre: Drama; Released: 18 Nov 2016
We enjoyed this movie, but it was somewhat formulaic. There were some surprises, and a great deal of tension throughout. It was a compelling story. It was nearly a month ago when we watched this at home.
*There might be some spoilers*
We first see Chiron as a young boy being chased by some bullies in a rough part of Miami. Even by this time some of the school kids have an inkling Chiron might be queer. He is certainly introverted and even lonely, his mother is a crack addict. The closest thing to a frien young Chiron finds is a neighborhood drug dealer called Juan who takes an interest in him with his girlfriend Teresa and his only comfort is spending time in their home.
We next see a teenage Chiron, still bullied due to his small stature, his mother has gone deeper into addiction but he finds comfort with lifelong friend Kevin and an awakening of his sexuality but this comes crashing down as Kevin has to beat him up as part of a gang initiation. Chiron leaves this stage of his life under arrest as he tackles the bully who has tormented him for years.
In the third act Chiron is a young man in another city, he has bulked up, and is now a drug dealer. However when he receives a call from Kevin he returns to Miami to see his mother and then confront Kevin as well as his true feelings and the encounter they had one moonlit night as teenagers.
Director Barry Jenkins has made a small scale, slow-paced, low-budget drama. In fact, it was such a small budget, the cast and crew shared a single trailer and porta-john. Some of the finance was provided via Brad Pitt's production company. It is in many ways a simple, but human tale of a young bay growing up. It's uncanny how similar the 3 actors, who played the kid, teenage, and adult versions of Chiron behaved and acted; you'd almost think it was the same actor who played all three roles.
It is worth watching, but I'm glad we didn't pay to see it in the theater.