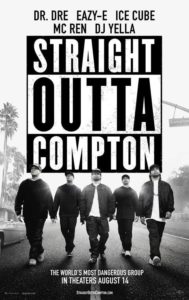 In 1987, five young men, using brutally honest rhymes and hardcore beats, put their frustration and anger about life in the most dangerous place in America into the most powerful weapon they had: their music. Taking us back to where it all began, Straight Outta Compton tells the true story of how these cultural rebels-armed only with their lyrics, swagger, bravado and raw talent-stood up to the authorities that meant to keep them down and formed the world's most dangerous group, N.W.A. And as they spoke the truth that no one had before and exposed life in the hood, their voice ignited a social revolution that is still reverberating today.
Director: F. Gary Gray
Writers: Jonathan Herman, Andrea Berloff
Stars: O'Shea Jackson Jr., Corey Hawkins, Jason Mitchell, Neil Brown Jr., Aldis Hodge, Marlon Yates Jr., R. Marcos Taylor, Carra Patterson, Alexandra Shipp, Paul Giamatti
Genres: Biography, Drama, History, Music; MPAA Rating: Rated R for language throughout, strong sexuality/nudity, violence, and drug use; Release Date: 14 August 2015; Run time: 2 hrs 27 min
We watched this on Amazon about a month ago, and found it to be very interesting. Lay is way more into this than me, but even I found the story to be well told an interesting.  I'm going to give it about a six.
The movie  delivers an edgy, powerful film, and should stand the test of time as an accurate portrayal of a seminal moment in music history. Starting in 1987, a group of 5 people start what came to be, the group N.W.A and with their powerful lyrics, strong wills, and big dreams, they got the ball rolling for the hip hop and rap music industry that we see today.
This movie does an excellent job of showing the hardships that these men had to go through. The racist cops, the threats from the FBI, and the government and media attempting to censor their art. They were given a voice with their music and were not going to be silenced. The casting department for this movie did an excellent job of filling the giant shoes of the musical giants Ice Cube, Eazy-E, Dr. Dre and more. Most of these were unknown actors but each one of them did an outstanding job.
It's not Amazon Prime, and not on Netflix, but worth the rental cost.