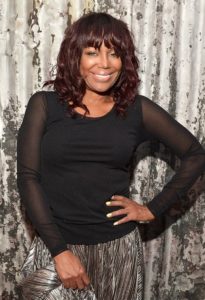 Celebrated hip-hop recording artist Michel'le will speak up and speak out about the darker side of Compton hip-hop as she narrates the Lifetime Original Movie, "Surviving Compton: Dre, Suge & Michel'le," based on her life story, premiering Saturday, October 15 at 8PM ET/PT. The first lady of Ruthless Records, who triumphed over a life riddled with abuse and adversity, is ready to share her story with the world.
Director: Janice Cook
Cast: Rhyon Nicole Brown, Curtis Hamilton, R. Marcos Taylor, Jamie Kennedy
Produced for Lifetime by Sony Pictures Television and Thinkfactory Media.
Aired on October 15, 2016 on the Lifetime Channel
I believe this might be the first made-for-TV movie I've reviewed. We had recorded this, and watched it Sunday morning. It was an interesting bio-pic about the hip-hop music scene, narrated by someone who'd lived it, Michel'Le. I'm not all that familiar with the artists involved, but Lay's watched enough things, and I've seen enough in the news to feel that it had a sense of authenticity. It's real. It's raw, and at times, painful to watch. But this portrayal of NWA's Dr. Dre and Suge Knight told by ex-girlfriend Michel'le is claimed to be the untold true story.
Set in Compton, Dr. Dre is on the hunt for a new act when he meets Michel'le, a pint-sized singer with a squeaky voice. Brought to them by Eazy E., Dr. Dre and his group aren't sure that Michel'le has the look or the sound that they are looking for. But singing her first song is enough to get them interested. They sign Michel'le on to the label, but not before Dr. Dre takes a romantic interest in her. Soon, a tumultuous and rocky relationship emerges as Michel'le deals with the rising rapper's thunderous temper and physical abuse. This is followed by similar relationship with Suge.
The actors all played their parts well, and brought out the tension in their lives, especially Rhyon Nicole Brown. I'd say this one was worth watching if you have any interest in that genre of music, and some of the main characters.