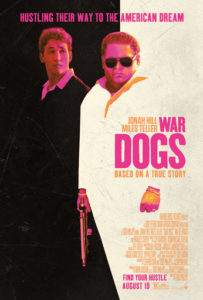 Two friends in their early 20s (Hill and Teller) living in Miami Beach during the Iraq War exploit a little-known government initiative that allows small businesses to bid on U.S. Military contracts. Starting small, they begin raking in big money and are living the high life. But the pair gets in over their heads when they land a 300 million dollar deal to arm the Afghan Military – a deal that puts them in business with some very shady people, not the least of which turns out to be the U.S. Government. Based on true events.
Director: Todd Phillips
Writer: Stephen Chin (screenplay), Todd Phillips (screenplay), Jason Smilovic (screenplay), Guy Lawson (Rolling Stone article "Arms and the Dudes")
Stars: Jonah Hill, Miles Teller, Steve Lantz, Gregg Weiner, David Packouz, Bradley Cooper
Runtime: 114 min; Rated: R; Genre: Comedy, Crime, Drama; Released: 19 Aug 2016
Man, am I way behind on getting movie reviews published. Sorry about that…it's just been a general lack of enthusiasm for writing. I'm going to try to get caught up, and do better.
So, we watched this movie on at home on Amazon a while back. We both thought it was pretty good, and if don't believe it could happen (it did, it is based on a true story), then you haven't ever been involved in government contracting. I have, and while no expert, I can see exactly how these guys pulled off what they did. The movie does a great job of depicting that.
Teller and Hill have great chemistry on-screen. Jonah does a particularly good job at playing the "guy you love to hate". Jonah Hill has some funny lines and he does a great job with the over the top character but he can be subtly sinister when he needs to be. Miles Teller plays his character sympathetically and I liked him here. Quite different from the rather annoying characters he usually plays. Bradley Cooper who produced the movie and has a small but pivotal role and he is effective as an arms dealer. I can't attest to the faithfulness of their portrayal of the real life people since I don't know anything about them. The rest of the cast does a great job as well.
This is not an over-the-top comedy, but there's plenty of that. There is real tension here, with some edge-of-your seat scenes. It's perfectly paced with some great scenes like the duo gun-running across the triangle of death and some nice camera work. However it's not to epic portions, not that it should put anyone off watching this, it's still a very watchable and enjoyable film and I don't think they could have done it any better.
We would definitely recommend watching it.