So, Rafael "Ted" Cruz wants to be President of the United States. That should scare the crap out of any sane person. Ted and his supposed pastor father (I say "supposed" because there is scant evidence of his ever pastoring a church) subscribe to a very dark end-times religious doctrine referred to as Dominionism, and the two of them have decreed that Ted is ordained by God to lead the Government area of influence of the 7 Mountain scheme of Dominionists (more on that later).
This is a longer article, and I apologize for that, but there is much you need to know and understand, particularly as regards the Cruz's religious beliefs.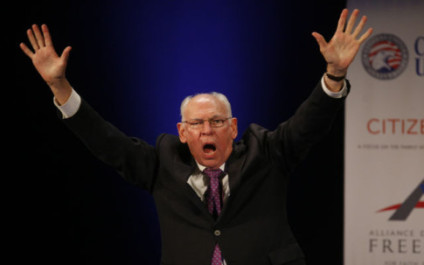 You really don't quite get Ted as the truth challenged theocrat he is, without understanding his father, who frequently campaigns as a surrogate for Ted. So let's get this all out of the way right up front.
Rafael has an interesting bio posted on the American Speakers booking website. He was helped out of Cuba to come to America to attend the University of Texas in Austin. His public bio states he, "immigrated to this country over 55 years ago to flee an oppressive communist regime. He fought in the revolution and was imprisoned and tortured." The problem with that is, he actually fought on the side of Fidel Castro during the communist takeover.  He was granted political asylum in the U.S. (something he and his son now oppose for others), after his student visa expired. He got married, divorced and remarried while living in New Orleans. He later moved to Canada where he was naturalized, and then back to U.S., where he was naturalized in 2005. Continue reading »